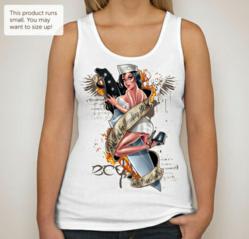 We wanted to put something out there for everyone in the biz that wants to show their identity and style.
Baltimore, MD (PRWEB) September 01, 2012
Chef wear company is now creating original t shirts and culinary clothing exclusively for chefs. The Extreme Culinary Outfitters company was started by a group of chefs to make shirts that chefs would be proud to wear. These completely unique shirts all feature hand drawn artwork and are now on display by some of the top chefs in commercial kitchens in the U.S. The plain one size fits all chef jackets and chef coats that many chefs wear can now be customized with this unique artwork. Extreme Culinary Outfitters now has t shirts and other culinary clothing available directly online at the following link http://www.extremeculinaryoutfitters.com/shop.
Custom clothing in the textile industry is usually designed by top fashion designers that represent most countries in the world. These designers choose styles, colors and sizes that are believed to best represent the average person. In the culinary world, these designs typically include one color chefs coats, pants or jackets that serve the purpose of stain-free clothing. The Extreme Culinary Outfitters team are chefs themselves and understand the shortage of fashionable clothing available. Chef Joseph Doyle is one owner of the company and recently explained his vision.
"We wanted to put something out there for everyone in the biz that wants to show their identity and style," Chef Doyle said. "All of the designs that we produce are hand drawn and capture the essence and attitude of chefs apart from them serving great food each day," Doyle added.
The t shirt industry brings in an estimated billion dollars annually from sales strictly in the United States. Many target groups are represented through the designs of t shirts and garments. Culinary workers are frequently left out of these estimates and uniform supply companies are designated to distribute chef clothing to commercial kitchens. The health codes that are written into legislation in every state often require kitchens to use clothing that will not interfere with the creation or distribution of food.
"Our t shirts and designs that go onto culinary clothing are made for men and for women," said Chef Joseph Doyle. Women are among the minority when it comes to finding female oriented chef wear compared to industry data. The designs and products that can be branded by Extreme Culinary Outfitters can help any chef in any commercial kitchen to dress more appropriate to match his or her personal style.
The Extreme Culinary Outfitters online store is now open and is shipping t shirts and other chef wear to all 50 U.S. states. More information can be found by visiting http://www.extremeculinaryoutfitters.com.
About Extreme Culinary Outfitters
With unique artwork and a passion for food, the chefs at Extreme Culinary Outfitters are helping other chefs around the country to showcase the latest stylings in fashion that is not yet sold in stores. This chef operated company creates t shirts, chef wear, chef jackets and chef coat designs featuring hand drawn artwork in color and black and white designs. With lower than MSRP prices and frequent contest giveaways, the Extreme Culinary Outfitters company is one of the fastest rising companies in the culinary clothing industry.