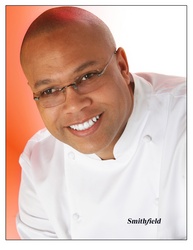 For me the lure of the street was too strong, I had no dreams and I felt I had no other options. As I stood in front of these kids today, I wanted to help them realize that they have great potential – they have options!
NEWPORT NEWS, Va. (PRWEB) December 3, 2008
An Achievable Dream educates disadvantaged children socially, academically and morally to become productive citizens. The school's nationally-recognized program helps students overcome the difficult personal challenges they face every day and prepares them to compete on a level playing field in the world of work.
"I know these kids. I know their thoughts, their fears, the negativity in their life—because I was in their spot years ago," said Chef Jeff. "For me the lure of the street was too strong, I had no dreams and I felt I had no other options. As I stood in front of these kids today, I wanted to help them realize that they have great potential – they have options!"
Chef Jeff has a long history of mentoring disadvantaged youth. In his Food Network television show "The Chef Jeff Project" which premiered this fall, he mentors six young men and women who work as interns at his catering company, Posh Urban Cuisine, in Los Angeles. They assist Chef Jeff on catering assignments ranging from high-profile clients like the cast of General Hospital and the LA Dodgers, to personal meals with Jeff's family. His reality TV program is different from others— there are no losers and no one is sent home. Everyone who completes the internship wins a scholarship to a culinary institute.
Chef Jeff has become one of the most inspirational chefs in the country after finding his passion for cooking while incarcerated for ten years in federal prison for drug trafficking, an experience he credits for turning his life around. In 2001, Jeff made history in Las Vegas, when he became the first African-American named "Chef de Cuisine" at Caesar's Palace. He eventually became an executive chef at several top restaurants including Café Bellagio, which he joined in 2004.
Walter S. Segaloff, founder of An Achievable Dream, said. "We encourage children to attain a vision and develop a personal, achievable dream that will light the way for success and joy in life as a productive citizen. Chef Jeff has walked in their shoes and knows their streets. He has a message the kids can relate to and respect."
Chef Jeff's remarkable story was captured in the New York Times Best Seller "COOKED" and is now being turned into a major motion picture by the team that made "The Pursuit of Happiness." In October 2008, he launched his first cookbook, "CHEF JEFF COOKS: In the Kitchen with America's Inspirational New Culinary Star."
Rikki Dozier, An Achievable Dream student said, "Chef Jeff's life is inspirational, motivational, and will help influence the decisions I make. He is a great example of a person turning their life around to live their dream."
Chef Jeff has partnered with Smithfield Foods to assist the company in its Helping Hungry Homes™ tour, Learners to Leaders™ program, and providing educational opportunities to disadvantaged students as well as college scholarships to children and grandchildren of Smithfield employees.
"We are very excited about our partnership with Chef Jeff that focuses on educating children and feeding families. Chef Jeff has a credibility that few can match," said Joseph W. Luter IV, Executive Vice President of Smithfield Foods. "Drawing on the experiences of his own childhood and those of a young man growing up on some of the meanest streets in America, Chef Jeff connects with kids who are looking for a role model with whom they can identify.
"Smithfield has been a strong local supporter of An Achievable Dream for many years. The results of their program are unparalleled in the education system, and we are proud to be making a difference in the lives of Dreamers," said Luter.
An Achievable Dream, Inc. is a public/private partnership between the business community and Newport News Public Schools. The partnership operates as a non-profit, year-round, extended day public/private school borne out of its founder's belief that all children can learn and succeed regardless of their socioeconomic backgrounds; and that education can break the cycle of poverty. An Achievable Dream successfully educates students socially, academically and morally.
Smithfield Foods (NYSE: SFD) is a global food company with operations in 13 countries through wholly-owned subsidiaries and joint ventures. Headquartered in Smithfield, Va., the company produces more than 50 brands of pork and turkey products and more than 200 gourmet foods. Employing more than 52,000 people around the globe, Smithfield Foods is the world's largest producer and processor of pork and a leader in turkey processing.
MULTIMEDIA GALLERY http://www.businesswire.com/cgi-bin/mmg.cgi?eid=5845494