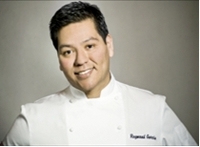 As we come upon our first anniversary I'm honored to be recognized for this by StarChefs and the Los Angeles dining community.
Santa Monica, CA (PRWEB) February 23, 2010
Within one year since FIG restaurant's opening last February, Chef Ray Garcia has been recognized as a Rising Star by the editorial team at StarChefs.com for his contribution to sustainable culinary practices.
Rising Star Awards are known to culinary insiders for their recognition of up-and-coming chefs, pastry chefs, sommeliers and mixologists from around the country. For the Los Angeles Revue, the Star Chef's team considered more than 100 new talents from the region, San Diego to Malibu, but only 20 winners were selected based on in-person tastings and interviews.
"Ray is a passionate, highly-skilled chef who also feels a responsibility to the environment," said Antoinette Bruno, editor-in-chief of the online magazine, StarChefs.com. "He doesn't just talk the talk -- he walks the walk and employs many different ways to further the cause of sustainability and pass this message on to his diners."
Ray's ''keep it simple'' philosophy fits his distinct approach to sustainable cuisine and the seasonal bistro fare he's built at FIG. He is known to scour Santa Monica's Farmers' Market in search of the freshest indigenous flavors to feature on his seasonal menu. Kerry Clasby, FIG's official food forager, travels California's Western Seaboard gathering the best produce directly from local farms. Ray lists vegetables and fruits at the bottom of his menu as ''Just Arrived,'' ''In Peak Season,'' and ''Coming Soon'' to provide guests with a preview of what delectable dishes they can expect.
FIG's commitment to sustainability extends to local organic beef and poultry as well as seafood that is endorsed by Monterey Bay Aquarium. Under Ray's guidance, FIG filters water, recycles and composts, and now his influence has extended beyond the restaurant whereby FIG's fryer oil is transformed into hand soap. Furthermore, to encourage participation from local patrons, FIG is the first restaurant in Santa Monica to offer a valet for cyclists, so locals can peddle rather than drive.
Ray strives to create a menu that allows Santa Monica's indigenous flavors to speak for themselves. In the year since opening, FIG has already been hailed ''a raging success,'' by Irene Virbila of the Los Angeles Times, for its ''bright California cooking,'' and with inventive takes on traditional dishes like FIG's Short Rib and Pancetta Meatloaf or its signature Bacon wrapped Bacon with heirloom tomatoes and avocado mousse, Ray is sure to keep them coming back for more.
"Using local ingredients at their peak allows us to bring out the best of what nature has already put in," Chef Ray said. "As we come upon our first anniversary I'm honored to be recognized for this by StarChefs and the Los Angeles dining community."
Chef Ray, a Los Angeles native, studied cooking at the California School of Culinary Arts. He credits his love of food and passion for cooking to memories made during Sunday Dinners at his grandmother's house. Before FIG, Ray perfected his technique working at restaurants in The Peninsula Beverly Hills and learning from other renowned chefs including Douglas Keene at Cyrus and Thomas Keller at the French Laundry.
The awards walk-around tasting gala will be hosted at Fairmont Miramar Hotel & Bungalows on Thursday, March 18, 2010 from 7 p.m. - 9:30 p.m. where FIG Restaurant is located at 101 Wilshire Boulevard in Santa Monica, California. Sunday Brunch features a Taco Bar, where fresh $3 tacos are made to order and FIG's "Kegs and Eggs" special, where, for $37, guests can enjoy any item on the brunch menu with an endless pint of draft beer. FIG is open daily from 7 a.m.-11 a.m. for breakfast, lunch Monday to Saturday 11 a.m. to 2 p.m., dinner Tuesday to Saturday 5 p.m. to 10 p.m. and brunch on Sunday from 11 a.m. to 2 p.m. Reservations are available by calling 310.319.3111 (http://www.figsantamonica.com ).
Media Contacts:
Jessica Slevin/Emily Viviani
Parasol
212-372-7632/212-372-7628
jslevin(at)parasolmarketing(dot)com/eviviani(at)parasolmarketing(dot)com
###