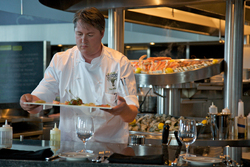 which means buying from fisheries that are dedicated to making sure fish populations are well-managed. We'll be looking at things like catch numbers and gathering methods in choosing our ingredients.
Dallas, TX (Vocus) August 7, 2009
Most people think the sea looks Blue. But when James Beard Award winning chef Tim McKee was envisioning his newest restaurant concept, Sea Change , he saw nothing but Green.
Sea Change opened at the Guthrie Theater on July 21. McKee designed a core menu for Sea Change that focuses on sustainable seafood, highlighting fisheries that use environmentally responsible methods of gathering and farming seafood. The menu also includes a number of items under the heading "Not Fish" as well as late night offerings of small plates and raw bar selections.
"I'm very committed to the idea of sustainable seafood," McKee said, "which means buying from fisheries that are dedicated to making sure fish populations are well-managed. We'll be looking at things like catch numbers and gathering methods in choosing our ingredients." Chef McKee is the winner of a 2009 James Beard Best Chef Award and is one of the most recognized and respected chefs in the Midwest.
Dinner at Sea Change features items ranging from a succulent scallop entrée with sweet corn, chorizo and a lime-jalapeño emulsion to a spice-encrusted seared yellowfin tuna with Jerusalem artichoke puree to non-seafood items such as a beef tenderloin with turnips, mustard greens and a sherry gastrique. Lunch at Sea Change offers a variety of salads, sandwiches and entrees including a crispy rainbow trout sandwich with a curry aioli, watercress and fried shallots. Raw bar items, including a variety of oysters with assorted sauces, are available at dinner and in the restaurant's relaxed lounge area late nights.
Design firm Shea, Inc., responsible for the interiors of McKee's restaurants La Belle Vie, Solera and Barrio, has created a space that is dramatic and respects the existing architecture of the Guthrie, while at the same time being warm and inviting. Shea achieved this balance by adding lighting with a warmer glow, offering more soft seating options in an expanded lounge area and creating more intimate seating configurations in the dining areas. Completely in step with the sustainable menu items, Shea located an artisan to create tables out of reclaimed wood felled from a 2002 winter storm in California that brought down a lot of redwood trees. People salvaged trees from their properties so they used a windfall tree from the storm to produce the tables. The addition of a vibrant green as a signature color for the new Sea Change brand was applied thoughtfully in various elements from furniture and fixtures to signage and graphics, including the umbrellas shading the two stunning outdoor patio spaces to further underscore the restaurant's commitment to preserving Mother Earth.
Chef McKee partnered with Dallas-based food service company Culinaire to create a new dining destination on the ground floor of the Guthrie Theater when they won the bid to operate all food and beverage inside the landmark building. Culinaire also contributes to the greening of the sea with its in-house water filtering and purification system, served in washable, reusable glass containers. Rather than the designer bottled waters available in most restaurants, both still and sparkling water is proffered to guests in the restaurant under the Sea Change sustainable label.
About Chef Tim McKee
James Beard Award-winning chef Tim McKee is one of the most recognized and respected chefs in the Upper Midwest. He has the unique distinction of having earned multiple four-star reviews from the Star Tribune for his restaurants, Solera and La Belle Vie. In addition, his talents have reaped well-earned praise from a wide range of regional and national food critics as well as his peers. His food style features intense flavors that are "balanced and presented in measured portions that compel the diner to savor each taste in turn."
McKee followed up his success with La Belle Vie and Solera with two new and very distinct restaurants in 2008. Going in a completely different direction he created two creative, edgy, casual-style restaurant/bars. In May, he opened the jaunty and spicy Smalley's Caribbean Barbecue and Pirate Bar in Stillwater and followed it up with the irreverent Barrio Tequila Bar and Café in downtown Minneapolis in August.
About Culinaire
Culinaire (http://www.culinaireintl.com) is a Dallas-based, privately held food and beverage corporation providing high-quality food and beverage service to a diverse collection of accounts and is a leading food service provider. In addition to its newest account, the Guthrie Theater, Culinaire provides food and beverage management expertise in the North Texas area for the Morton H. Meyerson Symphony Center, the Music Hall at Fair Park, UT Southwestern Medical Center, and the Fort Worth Zoo. Additionally, Culinaire operates two freestanding restaurants, Nicola's Ristorante Italiano and Coast Global Seafood, both in Plano at the renowned Shops at Legacy Town Center, as well as dining services in twenty-five hotels and conference centers nationwide.
Contact: David Wood
Phone: 214.754.1893
###