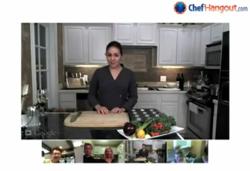 We created the Master Series for people wanting more than a cooking class, but less than a formal education. It is a new category in culinary learning.
Dallas, Texas (PRWEB) February 05, 2013
Today ChefHangout.com announced the launch of a new way to master the art of cooking and introduced the Master Series. It's a group of cooking classes focused on one subject. One year ago, the company launched and created a revolutionary way for people to take live, interactive cooking classes at home via webcam. Now, the company expands on cooking classes with cooking courses using the same technology. ChefHangout.com's Google+ brand page has gained over 1.6 million followers since launch.
"Some people want more than a cooking class, but less than a culinary degree. They want to be an expert in one thing, but until now, they had nowhere to turn. That's why we created this series as an affordable and convenient way to become a 'master' in a particular culinary area," says Joe Saad, founder of the company.
In the first Master Series on Italian cooking, customers buy ten classes at once. Each class builds towards the next as Chefs Jake Croston and Dennis Littley teach classes covering an array of dishes famous across many Italian cities such as Florence, Rome, and Venice. Once a customer completes eight of the ten classes, they'll receive a ChefHangout chef jacket signifying their accomplishment.
This technology is bridging geographical barriers. Recently, a family separated by three cities hired a chef to teach them a cooking class. When class was over, the chef departed, and the family dined together, face-to-face, kitchen to kitchen, via their webcams. "That's amazing," says Joe Saad. This video taken from that class shows the interaction.
About ChefHangout.com
Launched in February of 2012, the company provides online cooking classes via Google+ Hangouts. With two dozen chefs and an array of cooking classes, the company offers a new way to engage online and an alternative to watching a video for instruction as the chefs are virtually in the customers' kitchens via webcam. This is how the Master Series works.