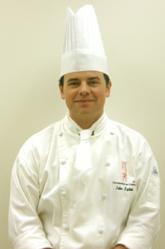 after 10 years of professional cooking, there is still so much more to learn
Gaithersburg, MD (PRWEB) January 25, 2012
L'Academie de Cuisine, one of the United States "Top Ten" Culinary Schools, is pleased to announce that alumni Jake Lydon will teach Phase 1 of the Culinary Arts Evening Program beginning March 27, 2012. Jake is a 2001 graduate of L'Academie's Culinary Arts program and has worked at several Washington, DC fine dining restaurants including Black Salt as Executive Sous Chef, 1789 Restaurant, and Addie's. Jake will join Chef Frank Morales, Director of LAC's evening programs. Jake is currently working alongside Chef Frank and the chefs on LAC's culinary team and says that he is learning "how much there is to know and after 10 years of professional cooking, there is still so much more to learn. Watching Chef Brian teach a simple Quiche Lorraine and break it into components, each one as important as the other was a revelation. I have learned to slow down and focus on the student learning for the first time." Chef Francois, Founder and Director of LAC is pleased to add another graduate to his teaching staff and said "Jake is an enthusiastic, smart cook who relates easily to the students at our school and will prove to be an excellent teacher." Jake is also married to another LAC graduate whom he met while they were classmates.
In 2005, L'Academie was named one of the "Top Ten" Culinary Schools in the United States. The Culinary Arts and Pastry Arts Programs (daytime and evening) provide a course of study in the theory and techniques of classic French cuisine with an emphasis on fine food planning, preparation, and presentation. L'Academie de Cuisine offers small class sizes so students receive personal attention and expert instruction under the direction of European and American trained chefs and pastry chefs. The professional program includes a paid externship for students to work in fine-dining restaurants, hotels and bakeries. An application is available on LAC's website. Visit http://www.lacademie.com for an application or contact LAC's Admissions Department for more details at (800) 664-CHEF (2433), x201 or admissions(at)lacademie(dot)com. Professional Culinary Arts Programs begin each January, march (evening) April, July, August (evening) and September.
In addition, L'Academie de Cuisine has offered over 1000 recreational cooking classes at two locations in Gaithersburg and Bethesda Maryland since 1976. Other areas of study include continuing education and private events.
# # #