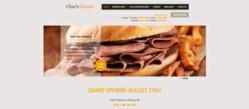 Ebony, Virginia (PRWEB) August 24, 2012
Chef's Korner restaurant is celebrating their Grand Opening on Saturday August 25th in Ebony, Virginia from 12 AM to 8PM. The kick off will include grilling outside for a taste of some of the chef's specialties and a free gift for the first 50 people. Don't' miss this great event!
Southern dishes such as Biscuits and Sausage Gravy and Banana's Foster French Toast are offered for breakfast. Lunch guests at Chef's Korner are invited to choose from the diverse lunch menu featuring mouthwatering items such as Beef Empanadas, Chicken Teriyaki Sandwiches and Veggie & Meat Lasagna. Appetizers include Quesadillas and Fried Wontons.
Chef's Korner offers catering services for both business and personal events.
Chef David will oversee the culinary operations to insure that patrons experience freshly prepared food at its best, including wine, beer and kegs. Dining in or take out options are available.
You can check out the full menu at http://www.chefdaveskorner.com. For more information please call (434) 636-2526 or email chefdavid.rose(at)gmail(dot)com
Chef's Korner is located at:
2967 Hendricks Mill Rd
Ebony, Virginia 23845
434 636-2526
http://www.thechefskorner.com
Hours: Tuesday through Thursday: 12pm - 8pm, Friday: 12pm – 9pm, Saturday: 9am – 9pm, Sunday: from 9am – 8pm, Closed on Mondays.
Chef Korner accepts Master Card, Visa, and Discover.