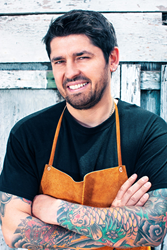 I look forward to working with such an innovative manufacturer of appliances who understands how to improve life in the kitchen through design.
Huntington Beach, California (PRWEB) August 28, 2014
Fisher & Paykel Appliances, Inc., a global design innovator and manufacturer of indoor and outdoor home appliances, announced an exclusive partnership and culinary alliance with their Fisher & Paykel brand and Chef Ludo Lefebvre, who has been hailed as one of the most influential chefs in the United States. The alliance exclusively covers the category of premium kitchen appliances in which Ludo will serve as a brand ambassador.
America's French Chef, Ludo is pioneering new concepts in dining and is credited with changing the modern fine dining scene in Los Angeles with his restaurant Trois Mec, which has picked up almost every award and honor possible: Esquire's Best New Restaurants 2013, Los Angeles Magazine's Top 10 Best New Restaurants of 2013 (#1), GQ's 25 Best New Restaurants in America 2014 (#2), LA Weekly's 99 Essential Restaurants 2014, LA Mag's 75 Best New Restaurants 2014 (#2), and Jonathan Gold's 101 Best Restaurants 2014 (#8). Just last month, Ludo, in partnership with Jon Shook and Vinny Dotolo, opened "Petit Trois" and is introducing a new style of dining coined "Bar a la Carte," pairing classic French bistro food and cocktails in a Parisian bar setting.
"Chef Ludo is one of the most influential chefs in the world, and is well known for his pioneering and revolutionary work in the culinary industry," says Scott Davies, brand marketing manager for Fisher & Paykel. "Chef Ludo and what he stands for align perfectly with the premium brand of Fisher & Paykel. Our goal is to provide products that fulfill the need and deliver on the promise to make life that little bit better. A partnership with Chef Ludo creates a brand alliance and enables us to leverage our brands to reach our core demographic and raise awareness throughout our market place. Together, we look forward to inspiring the highest standards of culinary precision, creativity and expression in the kitchen."
"I am extremely excited about working with Fisher & Paykel and to have the opportunity to come together in an effort to inspire chefs everywhere to push their limits, their creativity and their successes in the kitchen," says Chef Ludo. "I look forward to working with such an innovative manufacturer of appliances who understands how to improve life in the kitchen through design."
About Chef Ludo
Chef Ludo is an award winning chef named one of the "World's 50 Greatest Chefs" by Relais & Chateaux and was a finalist for the James Beard Foundation for "Rising Star Chef" Award. Ludo has quickly established a reputation for his ability to combine Old World technique and New World imagination in innovative dishes to tantalize diners' taste buds with subtly exotic flavors. Ludo earned his reputation in Los Angeles as an innovator and became widely known for his popular popup event, LudoBites, and fried chicken food concept, LudoBird, at the STAPLES Center™. This fall, Ludo will be returning to ABC's hit culinary competition "The Taste" for a 3rd season.
About Fisher & Paykel
Since 1934, the Fisher & Paykel design heritage has been founded on a pioneering spirit and culture of curiosity that challenges conventional appliance design to consistently deliver products tailored for human needs. Incorporating outstanding performance and user-focused innovation, Fisher & Paykel and DCS by Fisher & Paykel appliance brands inspire people through indoor/outdoor kitchen and laundry products designed with real life in mind. Our brands incorporate innovative technologies driven from a passion to produce the most technically advanced, efficient and contemporary styled appliances. As pioneers of the world's first drawer dishwasher – DishDrawer® – Fisher & Paykel continues to pave the way for appliance innovation. Since the 1980s, DCS has defined cooking appliance innovation for the commercial food industry and designs commercial quality appliances for the home. Fisher & Paykel Appliances is a global company operating in 50 countries, manufacturing in the United States, Mexico, Italy, Thailand and New Zealand. For more information, please visit: http://www.fisherpaykel.com.