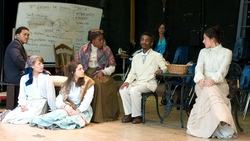 This time, we're handing him the reins.
New York, NY (Vocus) April 30, 2010
April 28 at 2 and 7 p.m., and April 29 at 7 p.m., the BMCC Theatre Arts program presents at the BMCC Tribeca Performing Arts Center, Theater II, Anton Chekhov's "The Seagull" -- entrusting its lighting to a BMCC theatre major, Isaac Winston.
"Basically, my job is to integrate the lighting with all the elements of the production -- the set, the flats, the actors' skin tones and the costumes," says Winston.
Students are not typically enlisted to light BMCC main stage theater productions. "Usually, we'll bring in a professional," says Elizabeth Chaney, an assistant professor in the Department of Speech, Communications and Theater Arts, and set designer for "The Seagull." "But Isaac has definitely shown the interest, talent, dedication and artistic sensibility to handle a main stage design."
The lighting practicum "is a totally hands-on experience," adds adjunct professor Chad Yarborough, who has worked on past main stage productions with Winston. "He's always shown great initiative and terrific follow-through," Yarborough says. "And this time we're handing him the reins and giving him the freedom and space to do what he does so well."
"Since 'The Seagull' is set in Russia in the 1890s," says Winston, "illumination is provided by gas lamps, lanterns and the flickering light of fireplaces, so we need to find ways to simulate those things realistically. We also have to know the time of day each scene is taking place in order to create the effects of sunlight or moonlight coming through the window."
Winston plans to earn a bachelor's degree at Brooklyn College, once he graduates from BMCC this June. Eventually, he wants to pursue a lighting career on Broadway. "The idea is to get everything to blend together," he says, "and to make a scene."
Borough of Manhattan Community College (BMCC) enrolls over 22,000 degree-seeking and 10,000 Continuing Education students a year. The largest community college in The City University of New York (CUNY) system, BMCC has students from more than 155 countries, and awards associates degrees in over 27 fields.
###