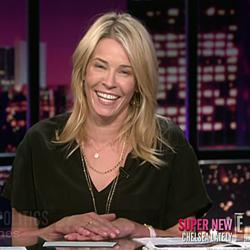 Chelsea Handler "loves layering this piece with others, or simply just wearing it alone."
Beverly Hills, CA (Vocus/PRWEB) March 04, 2011
Chelsea Handler just celebrated her birthday (February 25, 2011) in style on her hit show, Chelsea Lately. Chelsea livened up her outfit with a beautiful, multicolored tourmaline necklace (priced at $350), by TZEN. TZEN's pieces showcases the brand's award winning designs in creating colorful yet neutral color palettes. At 50 inches in length, this particular necklace can be worn over ten different ways: wear it long as a one strand, trendy as a two strand, classic as a three strand, or get creative on your own.
"Chelsea exemplifies our brand with her witty personality and great style," states the designer Julie Liu.
The meaning of TZEN stems from the Asian language, meaning sunrise. The jewels show the colors across the light spectrum of the sun, which carries into the meaning of life. TZEN is playful in combining colors just like how life is ever changing. TZEN jewelry is as beautiful as watching the sunset on a beach and we enjoy life boldly with bursts of color. The tourmaline necklace is one of the pieces in the collection that truly embodies these images.
Chelsea Handler "loves layering this piece with others, or simply just wearing it alone."
About TZEN
TZEN is an award winning limited collection jewelry made with bold colored gemstones that fuses Italian couture with Asian intricacies. Pieces are meant to take you from day to night and from jeans to gowns. Each piece is handmade and is available in high-end boutiques around the United States and online at TZENBoutique.com. Adorned by celebrities like Blake Lively, Kelly Rutherford, Rachael Ray, Tika Sumpter, etc., and television series Gossip Girl, Rachael Ray Show, WGN, NBC, Behind the Burner, etc., TZEN is fun, versatile, classic with a couture twist.
About Chelsea Lately
In July 2007 Chelsea Handler broke into the world of male-dominated late-night talk shows with her E! Entertainment series, Chelsea Lately, airing weeknights. Consistently the highest-rated program on E!, Chelsea comments on pop-culture and entertainment news. Chelsea Lately is an authentic and hilarious commentary on the celebrity culture around us.
# # #