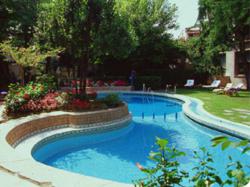 Water is a perfect medium for healing, fitness, and health.
Atlanta, GA (PRWEB) June 01, 2012
Homeowners who wish for a chlorine free swimming pool will be happy to learn that it is now a possibility with a copper ionizer device which has been used by NASA by for decades. The Water Doctor is a revolutionary piece of equipment which allows homeowners to maintain a chlorine free and healthy swimming pool on a year round basis.
NASA discovered this kind of technology while trying to solve the issue of unsafe drinking water for their astronauts on the space shuttle where they often spent weeks at a time in space. NASA has been using this kind of technology since the early 1970s with incredible success and now homeowners have an opportunity to use the same device at home.
Chlorine free pools are extremely beneficial for the health of all who swim in the pool, including pets and the elderly. The healthy chlorine alternative is a copper ionization pool system, which is manufactured by Intec America. The device eliminates harmful chemicals while maintaining the water cleanliness with anti-inflammatory agents which strengthen blood vessel walls and provide a variety of other health benefits such as increasing the energy in the body's metabolism.
Chlorine is on its way out as pool owners begin to recognize the need for healthier alternatives. The Water Doctor copper ionizer device is designed to treat swimming pools and a number of other home and hospital water equipment such as therapy pools and hot tubs. The system also has a variable setting which is adjustable to the many conditions of a pool's water chemistry.
The Water Doctor water cleaning system is easy to install and comes complete with an electronic unit, a large electrode, an all-inclusive test kit, copper test kit and a booklet of comprehensive pool water and equipment care instructions. Homeowners are encouraged to visit the Clean Healthy Pool website to learn more about how to maintain a clean and healthy pool without harmful chemicals.
About
CleanHealthyPool.com was created to assist you in learning about a healthy alternative to chlorine for swimming pools, hot tubs, and therapy pools. Water is a perfect medium for healing, fitness, and health. Whether it's a swimming pool, hot tub, therapy pool, or bath tub, the water you submerse yourself in should be healthy and free of harmful chemicals. As a conscious society we are obligated to keep a clean environment for ourselves and for generations to come. By eliminating chlorine we are ridding ourselves of toxic chemicals one pool at a time.