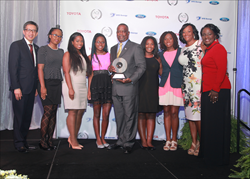 SOUTHFIELD, MI (PRWEB) November 03, 2016
On Thursday October 6, 2016, the Michigan Minority Supplier Development Council (MMSDC) honored Leon C. Richardson, President and CEO of The Chemico Group (Chemico) with the President's Award. Chemico is a $150 million, minority-owned, chemical management company headquartered in Southfield, MI. Richardson humbly accepted the award affectionately presented to him at the 33rd Annual Ambassadors Championing Excellence (ACE) Awards Ceremony. The annual ACE awards is one of the most prestigious regional events, boasting an attendance of nearly 850 of the region's top leaders, executives, visionaries and corporations to celebrate those making significant contributions toward minority supplier development.
The MMSDC is a non-profit, 501(c)3 organization committed to driving economic growth within minority communities, facilitating over $20 billion annually in business contracts between corporations and certified minority business enterprises (MBEs). Richardson has served as the Minority Business Enterprise Input Committee (MBEIC) Chairman since 2014. In this role, Richardson has advanced MMSDC's efforts to conduct industry-specific training, identify possible strategic alliances, and foster an environment that promotes MBE to MBE spend.
"I've personally witnessed this year's President's Award recipient work alongside our MMSDC staff to not only chair and establish the new MBEIC structure, but to personally mentor countless MBEs as well as corporate supplier diversity leaders," said MMSDC President Michelle Sourie-Robinson. "He and I have talked over many weekends and even on Christmas Eve, making sure MBEs were included in opportunities. In fact, I'd estimate he devotes 15-20 hours each week to MMSDC council business and has indirectly impacted hundreds of millions of dollars in contracts for other MBE firms. It is for these reasons and countless others that we proudly recognize Leon Richardson of The Chemico Group."
"This award truly comes as a surprise. It is never my intention to be recognized for what is natural to me," said Richardson. "My commitment to the MMSDC is far greater than philanthropy. For me, it's personal. I wholeheartedly share the responsibility to be a strong voice for minorities in business, to mentor our next generation of minority leaders and entrepreneurs and to continue to connect women and people of color with a vast network of minority vendors, suppliers and supporters."
Just days before, Chemico was acknowledged by Corp! Magazine with the Diversity Business Leader Award at their annual Salute to Diversity event. Chemico earned the illustrious honor by demonstrating outstanding leadership in diversity and multiculturalism in Michigan. The event attracts more than 275 C-Suite Executives and Diversity Business Leaders each year who assemble to recognize those making significant advances in diversity across their organizations or communities.
"Diversity is part of Chemico's DNA. For us, diversity is more than race and gender. True diversity is a culmination of ideas, experiences and perspectives. Companies that win in this highly competitive global marketplace are those that harness the power of diversity to deliver the best quality products and solutions," said Richardson.
Corp! is a print and online B-to-B publication that features success stories, best practices and strategies that CEO's, business owners, executives and managers will find beneficial and relevant. With a print circulation of more than 30,000 in Michigan, the publication features special online editions that focus on human resources, green/sustainability, digital and technology among other special topics.
"New ideas and creativity—keys to a successful business—stem from a diverse work force. For the tenth consecutive year, Corp! Magazine, is honored to continue to recognize companies that have instilled diversity and multiculturalism into the very core of their business strategy", says Jennifer Kluge, Publisher of Corp! Magazine."
In the past year, Richardson was recognized by the Congressional Black Caucus with the distinguished Corporate Citizens award and the Michigan Black Chamber of Commerce with the 2015 Sankofa Award.
About Chemico: Chemico specializes in providing an integrated solution for the chemical lifecycle – from sourcing and procurement, to lean hands-on management, through environmentally conscious disposal. Founded in 1989, the organization has continued to experience positive growth year over year since its inception. Chemico serves customers across a variety of industries including automotive, aerospace, biotech and pharmaceuticals. The Chemico Group currently operates in more than 50 sites throughout the U.S., Canada and Mexico. Chemico customers include General Motors, Fiat Chrysler Automobiles, Ford, Toyota, Amgen, Delphi, Honeywell CR Bard and Maxion Wheels Mexico. For more information, visit http://www.chemicomays.com.