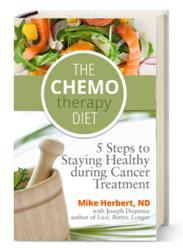 Eating the right foods will promote immunity, lessen the negative side-effects of chemotherapy, and speed healing from cancer.
Dallas, Texas (PRWEB) November 29, 2012
A new study published in the November 7, 2012 issue of the Journal of the National Cancer Institute confirms that a high-carbohydrate diet can cause a recurrence of colon cancer — one of many recent studies on the cancer-diet connection.
In "The Chemotherapy Diet," naturopath Dr. Mike Herbert, advises cancer patients to eat right and supplement their diets properly to speed their recovery and enjoy good health during treatment.
Special Pricing: the Kindle Edition of "The Chemotherapy Diet" is available from Amazon.com FREE today, Nov 30, and Dec 1. Also, for a limited time, the paperback edition is being offered at the discounted price of $19.97.
For oncologist offices and chemotherapy clinics, and to other health providers, "The Chemotherapy Diet" is available in volume lots at discounted prices: thechemotherapydiet.com.
Many cancer patients are not sure about how to care for themselves outside the chemo clinic. "The Chemotherapy Diet" is an easy five-step program that fills that important need and makes the connection between chemotherapy and diet.

Adopt an attitude of powerful self-healing.
Cleanse of body of chemo chemicals and dead cancer cells.
Eat only foods that promote good health — and avoid foods that don't.
Supplement with the correct vitamins, minerals, and herbs.
Exercise sensibly to maintain muscle mass.
Dr. Herbert says that eating some foods while in treatment may actually feed the very cancer that chemo is trying to destroy. "Sugar is a major culprit," he says. "Cancer absolutely thrives on sugar. Eating sugary foods like candy, cakes, sodas, and cookies can cause cancer to deepen and spread, and make the work of chemotherapy much harder."
Dr. Herbert adds to his list of foods-to-avoid: alcohol, dairy, wheat, and processed meats.
Eating the right foods will promote immunity, lessen the negative side-effects of chemotherapy, and speed healing from cancer. The Big Five best-food choices for a chemo patient:

Green leafy vegetables and other colored vegetables
Beans and other legumes
Brown rice
Nuts and seeds (no peanuts, which are not nuts)
Green tea
"These great whole foods, plus berries, some fish, and high-antioxidant spices and herbs will keep a cancer patient vibrantly healthy while undergoing the rigors of treatment," Dr. Mike says.
"The Chemotherapy Diet" includes over 100 recipes for turning the recommended foods into delicious dishes.
About the Author:
Mike Herbert is a Naturopathic Doctor with fifteen years of experience in treating clients. He maintains a private practice in holistic wellness counseling. Dr. Herbert is dedicated to exploring the latest research in the fields of nutrition and natural healing. When his life was touched by a cancer crisis, he turned his full attention to investigating cutting-edge studies on the link between cancer and nutrition.
"A very powerful book that will change your perspective forever on recovering from cancer. It provides excellent and sound guidelines on protecting your immune system while undergoing and recovering from chemotherapy. This groundbreaking book will help you conquer your fears and anxiety and replace them with healing and hope."
-- Ann Louise Gittleman, Ph.D., C.N.S., NY Times bestselling author of The Fat Flush Plan
# # #
THE CHEMOTHERAPY DIET: FIVE STEPS TO STAYING HEALTHY DURING CANCER TREATMENT
By Mike Herbert, ND; with Joseph Dispenza, author of "Live Better Longer"
Natura Publishing: $19.97 ISBN: 978-1475171235 Pages: 295
Media Representative
Request review copy of "The Chemotherapy Diet" (specify electronic or paper edition): marketing@thechemotherapydiet.com or phone 210.722.0355.