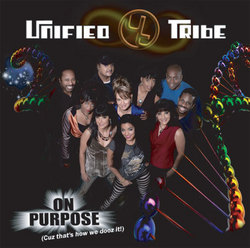 An emailed message with a love song attached can be stored and played again and again.
Atlanta, GA (PRWEB) February 11, 2010
According to band leader and producer Magic Mendez, Unified Tribe decided to "give a way" to share the love by authorizing free downloads of a variety of passionate songs. "An emailed message with a love song attached can be stored and played again and again," states Mendez. "It can become a lasting memory – hopefully one of the relationship's many little treasures."
The songs that make up the lively package have themes that range from romance to regrets. Originally featured on albums by Unified Tribe, titles include Love's On My Mind, Someone Sincere, I'm Sorry, Touch Me, Waiting, I'll Do Anything, Don't Wanna Be, I Remembered and Living Without You. Families with loved ones in the military will find a wonderful ballad in I'm Coming Home, and Mendez's rendition of the 1937 show tune "My Funny Valentine," recorded through his company Magic Muzik Productions brings soulful brilliance to the jazz classic.
Mendez says Unified Tribe hopes to flood cyberspace with free love on Valentine's Day, and add a new dimension to the traditional approaches. "The songs in the package are unique and can be an unexpected addition to chocolates and flowers," Mendez comments. "Romantic music touches the soul and turns up the heat. Love could spread through the web like an internet wildfire."
The songs, complete lyrics and easy downloads are free at Valentine's Day Giveaway
URL to copy/paste into a web browser:
http://www.magicmendez.com/Valentines_Day_Giveaway.html
About:
Magic Mendez (winner, 2007 American Black Music Awards, "Best Neo Soul Performer, Male") is the wizard behind Magic Muzik Productions, Inc., and the rhythmic powerhouse Unified Tribe (nominee, 2007 American Black Music Awards, "Best Live Band" and SoulTracks 2009 nominee for "Duo/Group of the Year.") Unified Tribe's 2009 album On Purpose was nominated for "Album of the Year" on SoulTracks and the album's single "Guilty" won a "2009 Auddie Award" from Artist Music Universe. On Purpose follows Unified Tribes' third album FUNKtional Family, which featured the hit Back and Forth and reached #2 on the Billboard Hot R&B/Hip-Hop Singles Chart. Mendez co-wrote and produced five of the ten songs featured on "Thankful," the 2009 gospel album from The Whispers, including the album's single release, For Thou Art With Me. This is the fourth project Mendez has produced with The Whispers, who are recognized as one of the most successful vocal groups in soul music history with fifty R&B chart singles. The album debuted at #3 on Billboard's Gospel Album Chart and after almost three months of airplay, remains in Billboard's Top Ten.
Media Contact:
Cynthia Pararo
404-787-2410
unifedtribe.net
magicmuzik.com
magicmendez.com
reverbnation.com/unifiedtribe2012
myspace.com/unifiedtribe2012
###