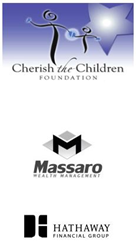 Welcome to The Perfect Day
(PRWEB) August 13, 2014
Co-hosted by Massaro Wealth Management of Rocky Hill and Hathaway Financial Group of Colchester, "The Perfect Day" begins with 18 holes at the award-winning Wethersfield Country Club course with lunch by Uncle Willie's Barbeque and beer by City Steam, followed by a dinner reception at the Clubhouse and concluding with a poker tournament.
Net proceeds will support Cherish the Children Foundation, a local 100% volunteer organization made up of a dedicated board of directors, an army of enthusiastic volunteers, and generous donors. CTCF serves a unique role in Connecticut as a direct resource for children and families with financial needs brought on by medical or quality of life challenges not being met by insurance or other traditional funding resources. Since 1990, CTCF has given more than $1.7 million.
Cherish the Children Foundation's mission is to provide a responsive and direct resource to children in need so that they have the opportunity to achieve their greatest potential. CTCF's goal is improving the quality of children's lives, one child at a time.
Why Cherish the Children Foundation is unique: Unlike many non-profit organizations, CTCF is 100% volunteer. That means no salaries, no rent for offices. CTCF is wholly managed by dedicated volunteers who enthusiastically donate their time to help children.
Registration Still Open! The Perfect Day Tournament
Started in 2013 by Massaro Wealth Management and Hathaway Financial Group, The Perfect Day is a coalition of local businesses working together to provide solutions for children in need so that they, too, can have The Perfect Day.
Massaro Wealth Management and Hathaway Financial Group are independent firms and not affiliated with Money Concepts, All Securities through Money Concepts Capital Corp. 11440 North Jog Road, Palm Beach Gardens, FL 33418, 561-472-2000. Member FINRA/SIPC.