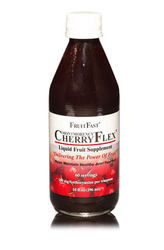 This is another one of our all-natural products designed to deliver the power of fruit
Traverse City, MI (PRWEB) October 11, 2007
The familiar saying "Less is More" is proving true with the introduction of a break-through dietary supplement product. After years of research and development, FruitFast® has unveiled CherryFlex Liquid Fruit Supplement - a condensed whole fruit product packed with antioxidants.
A single teaspoon of the potent CherryFlex Liquid is equivalent to four-32 oz glasses of tart cherry juice and is comprised of 100% Montmorency Tart Cherries, including the skins and pulp, which contain 100 mg of antioxidants in every teaspoon. No longer is it necessary to consume four liquid servings of fruit concentrate to benefit from this recognized dark-skinned Superfruit.
It's the proprietary process the FruitFast company has developed that places this fruit product ahead of all others. Unlike powder pills, the FruitFast production process delivers a full complement of phytochemicals under normal digestion conditions in a highly bio-available form. Certificates of Analysis can be found on the website, http://www.fruitfast.com.
"This is another one of our all-natural products designed to deliver the power of fruit," explains Steve de Tar of Brownwood Acres, Inc. The nutraceutical and functional food company that produces fruit softgels, all-fruit bars and now liquids for the natural products industry. All are produced and branded under the FruitFast label.
Only two 100% pure fruit ingredients are used in the liquid, no fillers and no artificial sweeteners.
With 60 servings per 10 oz bottle, Liquid CherryFlex:

Offers the antioxidant power of four glasses (32 oz) of tart cherry juice in a single teaspoon.
Helps maintain healthy joint and cardiovascular function.*
Contains natural melatonin to help maintain a normal sleep cycle.*
Offers 100 mg of anthocyanins (antioxidants) per serving.
In addition to Cherry-Flex liquid, FruitFast is also producing a Mixed Berry Blend as well as Wonderful Pomegranate. Each liquid contains no added sugar, sweeteners, preservatives or fillers. "This is one hundred percent fruit," says de Tar, "nothing has been added."
About FruitFast
FruitFast is the exclusive producer of whole fruit softgel capsules including CherryFlex, Wild BlueberryIQ and their recent introduction---Wonderful Pomegranate. The nutraceutical and functional food company http://www.fruitfast.com also produces a variety of fruit supplement bars made from 100% fruit. All products can be ordered online or call toll free (1.877.591.3101) Monday through Friday, 8:30 a.m. to 5:00 p.m. EDT.
*This statement has not been evaluated by the Food and Drug Administration. This product is not intended to diagnose, treat, cure or prevent any disease.
###