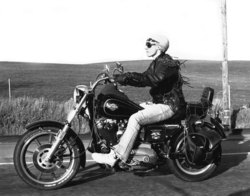 I think there are a lot of runaways—lost souls trying to find their way through this world—and this book shows there is hope to get back on track after slipping into the drug scene
Fresno, Calif. (Vocus) October 8, 2010
Take a far out trip back to the flower power days of good vibes and groovy jams in First Trip: Sex, Drugz, and Rock & Roll in the '70z (published by AuthorHouse) by Cheryl Taylor, a coming-of-age story based on Taylor's own experiences as a teenage runaway in the drug world. Now a newspaper publisher and mother, First Trip illustrates how the lost-girl-turned-entrepreneur coped with sexual and parental abuse, hitchhiked, and encountered interesting people and life-changing events along the road.
"I think there are a lot of runaways—lost souls trying to find their way through this world—and this book shows there is hope to get back on track after slipping into the drug scene," says Taylor. "It not only gives hope to those addicted to drugs, but family members worried about their loved one's addiction."
First Trip centers around Dawn (Taylor), a teenager who leaves home on impulse to hitchhike up and down the Pacific coast of California. At 14, she's living on the streets of L.A., just one of many runaways at the time. She experiments with drugs and sex, all while trying to understand the complexities of life. The book follows Dawn until age 18, when she begins to finally understand and learn from her own vices.
After her inspiring turn-around, Taylor worked her way up in the newspaper business from typesetter, darkroom tech, delivery and more to build experience to start her own newspaper. With only $2,000 and an idea, Taylor built a brand-new local enterprise—all while raising five children. While not a writer by origin, Taylor became one out of necessity. After years of writing for her newspaper, she had finally honed her craft.
Taylor was inspired to write the book when her mother became gravely ill. She was forced to reflect on the years that impacted her the most, resulting in First Trip, which Taylor feels her mom would be proud of.
"If you have taken a wrong turn in life, there's always a way to get back on track and make your life one you can be proud of," says Taylor.
About the Author: Cheryl Taylor ran away from home at age 12 and 14. She lived on the streets and was addicted to meth by 16, but soon after joined an intensive therapy group in Napa, Calif., and decided to live a drug-free and socially acceptable life. At the age of 17, she was legally emancipated from her parents. Taylor is now owner and publisher of the Avenal Chimes Newspaper, a successful local news publication in the Avenal Chimes area, which Taylor started herself in 1997. She is also an artist and photographer, and was commissioned to do a mural on Cannery Row. "There's still a bit of wanderlust in me, and I'm still impulsive," says Taylor. "I'm not afraid to start a new adventure."
AuthorHouse is the premier book publisher for emerging, self-published authors. For more information, please visit http://www.authorhouse.com.
###