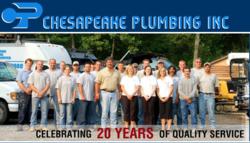 We offer a variety of eco-friendly plumbing accessories from such brands as Moen, Kohler, Delta, and many more, which our Maryland master plumbers are trained to install and service
Baltimore, MD (PRWEB) May 31, 2012
In an effort to preserve natural resources, Chesapeake Plumbing Inc. is offering a variety of green plumbing products and services from low-flow faucets to high-efficiency water heaters that are both eco-friendly and energy-efficient.
Family owned and operated, Chesapeake Plumbing Inc. employs certified and licensed Maryland plumbers who participate in ongoing technical training to perfect their skills and learn more efficient and environmentally friendly plumbing techniques.
"Unlike many other plumbers in Maryland, we perform free energy evaluations to present our customers with greener alternatives and show how they can reduce their utility bills," said Paul Kingston, the owner of Chesapeake Plumbing Inc.
According to the Environmental Protection Agency (EPA), more than 15 percent of water people use indoors comes from faucets. Therefore, installation of water-saving faucets can significantly lower water use and, subsequently, utility bills.
EPA has developed a WaterSense program to help consumers find greener options in the vast assortment of plumbing accessories. Products bearing a "WaterSense" label are designed to reduce water use by as much as 30 percent. This is achieved by incorporating automatic shut-off mechanisms or aerators that push air into the water flow.
"We offer a variety of eco-friendly plumbing accessories from such brands as Moen, Kohler, Delta, and many more, which our Maryland master plumbers are trained to install and service," shared Kingston.
Similar to faucets, showerheads and toilets can also help homeowners preserve a significant amount of water that is otherwise wasted. "WaterSense" toilets use less water per flush, and many showerheads feature adaptors that turn the flow on only when the water is hot enough to shower.
Aside from plumbing accessories, there are also big household appliances that process large amounts of water. Outdated dishwashers, washing machines, water heaters, sump pumps, and well pumps can cause high utility bills.
"Having performed many well and sump pump repairs and replacements throughout Maryland, we recommend our customers not to wait until either one brakes. Most of the pumps in older homes are outdated, so timely replacement won't only help prevent a potential mayhem, but will also allow you to save money by maximizing energy efficiency," pointed out Kingston.
He further explained that being up to date on service and maintenance is also essential for utilizing green plumbing methods to their full potential. "If the rubber flipper in your low-flow toilet's tank is slowly disintegrating, you'll start losing water to the point where the toilet runs non-stop," added Kingston. "In order to see the benefits from the green technologies, you need to maintain them well."
About Chesapeake Plumbing Inc.
Founded in 1990, Chesapeake Plumbing Inc. specializes in installation and service of full plumbing systems, well and sump pumps, water heaters and boilers, sewer inspection, and many other plumbing-related planned and emergency services. Maryland-based and family-owned company, Chesapeake Plumbing Inc. performs more than 200 plumbing system installations a year serving Maryland counties to the West of Chesapeake Bay. For more information, please visit http://www.chesapeakeplumbing.com.