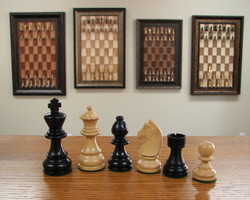 I've always loved the game of chess, but the real challenge is having the time to play
Denver, CO (PRWEB) October 24, 2008
Straight Up Chess has forever changed the game of chess with its new patent-pending chess set.
"I've always loved the game of chess, but the real challenge is having the time to play," stated Steve Schrier, president and creator of Straight Up Chess. "If there is not enough time to finish the game, then the board ends up in the way or being put away before the game is finished."
Enter Straight Up Chess. Instead of playing on a traditional chessboard taking up space on a table, each Straight Up Chess board is hung on the wall like fine art. Each board is custom designed using different types of wood, different stains, and different framing options. Chess pieces are available in a variety of sizes, colors and materials. And because the chessboard is mounted to the wall, every row has an acrylic shelf to place the chess pieces on as they move around the board.
There are no time clocks. Instead, play can be continued for hours or even days, depending on the players' availability. A player simply passes by the chess board, moves an individual chess piece and marks it with the "last move" marker and continues on his way. Play continues in this manner until the game is won.
"These chess sets have become more than a game; they are a real conversation creator," stated Schrier. "You can hang boards in your office, game room, family room or dorm room, and have a functioning piece of art that keeps your mind sharp. It's a great form of entertainment anywhere."
For more information on Straight Up Chess, and to view or purchase individual chess boards, visit http://www.straightupchess.com/
Contact:
Steve Schrier
TRF Games, Inc.
DBA: Straight Up Chess
1901 W Iliff Ave.
Englewood, CO 80110
720-837-0114
steve@straightupchess.com
###