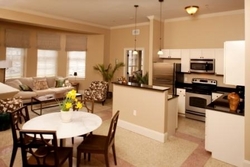 Last year was a huge success and we are excited to be able to offer this event again this year with our sponsor The Shops at Chestnut Green
Foxborough MA (Vocus) October 1, 2009
Chestnut Green, a mixed-use property at the former site of former Foxboro State Hospital, will host a VinCo Properties, Inc.-sponsored Oktoberfest charity event on the evening of Tuesday, Oct. 6, when the Shops at Chestnut Green will become a culinary paradise to benefit the Tri-Town Food Pantries of Mansfield, Foxboro, and Norton. Selections from the menus of 24 restaurants based in these and surrounding towns will be available to anyone who attends the Tri-Town Chamber of Commerce-produced "Oktoberfest," with proceeds going to Norton-Cupboard of Kindness, Foxboro-Discretionary Fund, and Mansfield Our Daily Bread.
"Last year was a huge success and we are excited to be able to offer this event again this year with our sponsor The Shops at Chestnut Green," said Kara Griffin, executive director of the Tri-Town Chamber of Commerce. "There is tremendous variety of quality restaurants here, in our own backyards, which we should all take advantage of. This event offers residents an opportunity to sample delicious offerings from these local establishments, while supporting families in need. Everyone is encouraged to attend Oktoberfest with their friends, family and colleagues."
The latest creation of VinCo Properties, Chestnut Green features shops, office space and the Chestnut Green Apartments. The work of VinCo Properties' joint effort with Abrams Properties, LLC, these luxury condo-style units are fashioned from a full restoration of Foxboro State Hospital's Greek revival architecture.
The Event opens at 5:00 p.m. and continues to 7:00 p.m. Tickets are $12.00 in advance and $15.00 at the door. Advance tickets are can be purchased at the following or by calling the Chamber at 508-339-5655 or by visiting the following locations:
Tri-Town Chamber of Commerce--15 West St., Mansfield
Glee Gifts--121 Main St., Chestnut Green, Foxboro
Mansfield Bank--80 North Main St., Mansfield
North Easton Savings Bank--172 Mansfield Ave., Norton
A full list of participating restaurants appears at the end of this announcement. Food offerings will include appetizers and hors d'oeuvres from a wide range of national cuisines. For instance, LOCO Tapas & Wine Bar in Easton will serve steamed mussels tossed in romesco sauce with toasted garlic and chorizo sausage. And Dream Dinners in Plainville will serve Chicken Paella, a savory dish combining tender white chicken and mildly seasoned sausage with lemon scented rice, sweet red peppers, artichoke hearts and tomatoes.
A new participant at Oktoberfest, EPOCH Senior Living of Norton will bring Lobster Bisque and Bourbon Chicken. Light music from the area's high school jazz groups will complement the large selection of food, as will the services of two on-site massage therapists from Back to Health Chiropractic of Mansfield.
"We are thrilled to be sponsoring this event given our track record of success from last year," said Vince O'Neill, CEO of VinCo Properties. "Everyone is looking forward to sampling the variety of foods in the family atmosphere. We are honored to have an opportunity to give back to a community which has given so much to us."
Chestnut Green, located between Boston and Providence with easy access to Routes 1, 95, 140 and 495, is just nine minutes from the MBTA commuter rail, with service to Providence and Boston suburbs. Apartments are being offered at $1,150 to $2,900 a month, with limited time pre-leasing specials, including one to two months free rent as well as reduced application fees and security deposits on select units. Applications for Chestnut Green Apartments are available online (chestnutgreenapts.com). For information on Foxborough apartment viewings and more, prospective tenants and other interested parties may call 1-877-298-APTS.
The following restaurants are scheduled to participate in this year's Oktoberfest at Chestnut Green:
Alberto's Pub & Pizza, Norton
Antonia's Deli, Foxboro
Bertuccis, Mansfield
CBS Scene, Foxboro
Casey O'Conor's, Mansfield
Corks Fine Wine & Liquor, Mansfield
Davios Northern Italian Steakhouse, Foxboro
Dream Dinners, Plainville
Edible Arrangements, Foxboro
EPOCH Senior Living, Norton
Fresh Catch, Mansfield
Friendly's Express, Mansfield
Jimmy's Pub & Restaurant, Mansfield
LOCO tapas & wine bar, Easton
Mai Pearl, Chestnut Green, Foxboro
Nature Springs Water Company, Needham
Piccadilly Pub & Restaurant, Foxboro
Pikes Peak Mining Company, Mansfield
Pizza Time, Chestnut Green, Foxboro
Qdoba Mexican Grill, Mansfield & Foxboro
Sunset Catering, Attleboro
Twenty8 Food & Spirits, Renaissance Hotel Foxboro
Tastings Wine Bar & Bistro, Foxboro
Waxy O'Connor's, Chestnut Green Foxboro
For more information on Oktoberfest at Chestnut Green, call the Tri-Town Chamber of Commerce at 508-339-5655
About Chestnut Green
Chestnut Green Apartments are a part of Chestnut Green, an adaptive re-use development of the former Foxborough State Hospital site into a mixed-use community consisting of retail, commercial, and residential housing units. A strong team of industry leaders stands behind the Chestnut Green development, located approximately one-half mile north of downtown Foxborough, Mass. This development team is led by master developer Vince O'Neill of VinCo Properties, Inc. VinCo Properties has developed "The Shops" and "The Offices" in partnership with Matthew Abrams of Abrams Properties, LLC developing 15 townhomes - "The Carriage House Flats" - and 55 apartments. On the perimeter of the property, single-family homes are being developed by Michael Intoccia of Intoccia Construction Company and Douglas King of Douglas A. King Builders, Inc. King is also developing 60 town homes. For more information, please visit http://www.chestnutgreen.com.
Members of the news media interested in learning more about Chestnut Green may contact the following individuals:
Lisa A. Nickerson
Nickerson PR
617-848-8193
lisa AT nickersonpme DOT com
This SEO news release is a product of STETrevisions, a PRSEO consultancy
###