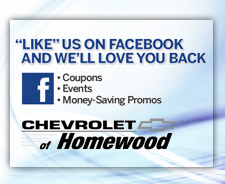 Homewood, IL (PRWEB) July 13, 2012
Chevrolet of Homewood is currently giving $1 to the Greater Chicago Food Depository each time a fan "Likes" their dealership on Facebook. This is a great way for area drivers to lend their support to a good cause, and as an added bonus, individuals will then receive periodic updates and information on incentives and special events at their showroom. It only takes a second to become a fan on Facebook, but the benefits for those helped by this great charity are long lasting.
As one of the top auto dealers in northern Illinois, the staff at Chevrolet of Homewood is just as dedicated to giving back to the surrounding communities as they are to keeping area residents informed of upcoming local events, the latest automotive news, updates on newly arriving models, and all new sales and incentives. Following them on Facebook is one of the best ways to keep up with all that they have to offer, including some of the best vehicles currently on the market. Chevrolet has been a leading manufacturer for decades, and Chevy of Homewood is proud to offer an outstanding selection of both new and used models.
New car buyers who haven't made a final decision about which automaker they're going to purchase from will be interested to learn about the Chevy Confidence program, which provides two guarantees for smart drivers. First, Total Confidence Pricing makes shopping simple: the price that's listed on a 2012 vehicle is always the best price available. There's no need to negotiate, because a fair deal is based on trust. Total Confidence Pricing ensures that customers will receive a great bargain on the vehicle they deserve.
The second commitment of Chevy Confidence is the Love It or Return It assurance. Chevrolet is so confident that motorists will enjoy their new car that it can be returned due to any dissatisfaction within 30-60 days. Just presenting such an offer is a testament to exceptional craftsmanship in itself.
In addition to the superb inventory at Chevrolet of Homewood, customers will appreciate the top-notch work that their service technicians provide. Whether a vehicle needs a simple oil change or a factory recommended tune-up, the certified mechanics at their service center will thoroughly diagnose any issues and provide the best service option as quickly as possible. Additionally, they use genuine GM parts to preserve the design integrity of each car, truck, and SUV they work on. Check their website and Facebook frequently to stay informed of new service specials being offered.
Chevrolet of Homewood's state-of-the-art showroom and service center are located at 18033 S. Halsted St. in Homewood, IL. They're open six days a week to provide top-quality sales and service for new and returning clients. "Like" their Facebook page today to help donate $1 to the Greater Chicago Food Depository, and stay up to date on all that they have to offer.