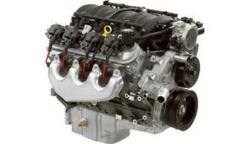 The complete GM inventory held by this company receives an inspection process for quality control and mileage verification.
Portland, Oregon (PRWEB) May 10, 2013
General Motors has invested in the Chevrolet brand and produces pickup trucks, SUVs and standard edition vehicles for buyers worldwide. Part of the success found in Chevy vehicles is the engines that are produced with varying levels of horsepower. The EnginesforSale.org company has now added Chevrolet truck engines for sale online. These motors are original GM builds that are offered in preowned condition. The complete GM inventory held by this company receives an inspection process for quality control and mileage verification. The company inventory can be browsed online at http://enginesforsale.org/chevy/used-chevy-silverado-engine.
The Chevrolet engine types represent multiple engine families created by General Motors. The early 1980s editions like the Iron Duke and Vortec have remained popular choices for pickup trucks. The secondary engines market remains one of the largest sources buyers use to locate replacement motors for pricing below dealership pricing.
The engines added for online sale are now sold for lower than standard pricing to assist buyers with locating a more affordable price point. The complete company inventory of GM motors has received these below MSRP discounts online.
The EnginesforSale.org company has expanded its customer offerings this year by creating exclusive incentives for buyers. One of the popular policies put in place is an extended warranty program. The inventory held by this company and units shipped from authorized third parties include a form of warranty protection. These warranties now provide the coverage that is difficult to find using some online sources for preowned engines. All sales generating from the company toll-free number and online ordering system are eligible for warranty coverage without a raise in engine price.
The upgrades to the company website that have taken place this year includes better quotation methods for current pricing. These pricing initiatives are now helping to produce prices for any in stock engine as well as comparison pricing for other retailers. These prices receive daily updates to promote accurate engine pricing for the preowned inventory. This online pricing and search system provides customers with an alternative to relying on a simple toll-free number to obtain information now accessible on the company website.
About EnginesforSale.org
The EnginesforSale.org company is a leading preowned engine seller providing some of the biggest discounts secondary market engine buyers can find. This company designed its online resource to be informative as well as easier to search. The company support staff personally assists all engine buyers with information about pricing and quality before a purchase takes place. The EnginesforSale.org company has expanded its distribution options for customer shipments to ensure better delivery and damage free deliveries. The low price points, warranty protection and additional programs put in place for buyers to benefit by this company have resulted a sales increase in 2013.