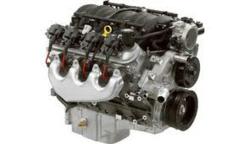 These units can be purchased by the public and trade industry companies searching for Chevrolet replacement motors.
Bridgeport, Connecticut (PRWEB) February 22, 2013
Chevrolet trucks rank annually at the top of best-selling lists in the automotive industry according to industry data. One company that supplies engines for these vehicles is now exclusively stocking and selling Chevrolet truck engines online. The UsedEngines.co website has added these pickup truck motors to its inventory for sale. These units can be purchased by the public and trade industry companies searching for Chevrolet replacement motors. Details for this addition can be found by visiting http://www.usedengines.co/used-truck-engines/truck-engines-sale.
Names like the S-10, Silverado, Colorado and Silverado HD series have help General Motors to establish its pickup truck brand in the United States. Direct competition with Ford, Toyota and Dodge has helped GM develop alternative engine technologies that are not used by other automakers.
It is these technologies that have created more demand for the GM series pickups compared to other automakers. The preowned motors that are now sold online through the Chevrolet series are expected to provide a better resource for buyers to locate new and older motors easier.
The V6 and V8 motors produced by GM are often found sold by a variety of retailers on the Internet. One issue that arises in the preowned engines industry is lack of coverage in the form of warranties. Some retailers prefer to offer shorter coverage periods after purchases are made and others do not provide protection. The UsedEngines.co company has now added an extended program for warranty protection. This new protection is designed to help all buyers purchasing online to receive assurance after installations are completed.
A series of upgrades have been made this year on the company website that directly affect the way prices and orders are handled. The installation of a price delivery system is one way that this company is helping to speed up quote requests by customers.
These quote requests can now be made online without requiring telephone assistance. Toll-free quote assistance remains available as one alternative option aside from these new upgrades. Future upgrades are expected to help the system provide more options in the coming year.
About Used Engines Co.
The Used Engines Co. supplies preowned condition engines from foreign and domestic automakers to the public. By using discount pricing and expedited shipping, this company has been able to build and maintain a network of loyal customers in the automotive industry. The integration of warranty protection has helped this company maintain its lead in the secondary engine marketplace. The Used Engines Co. frequently makes updates to its website with new pages and information about the I4, V6, V8, V10 and diesel engines for sale online.