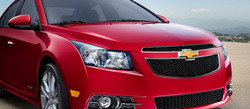 Literacy and education are two initiatives that the local Chevrolet dealers champion through their support of several initiatives in the Southeast region.
Atlanta, GA (PRWEB) September 13, 2010
According to the Education Board of Georgia, high school students who have logged 98% or better attendance records during the 2010-11 school year, will learn that the payoff could be extra special when Chevrolet hands over the keys to a brand new Cruze as a reward. High school seniors at more than 59 schools in Georgia will become eligible for a chance to win a Chevy Cruze after completing 180 days of 98% or better attendance at their respective schools.
Students that qualify with 98% or better attendance for the first 180 days of the school year will be invited to attend the end of the year event; date and location will be released once the venue has been secured.
In its first year in Georgia, Chevy Drive for Perfection is an initiative presented by Chevrolet and the local Atlanta Chevrolet dealers in conjunction with the Atlanta school boards.
The program was created to give seniors an additional incentive to finish their high school careers strong in order to adequately prepare for post-secondary education or the workforce. According to the US Department of Education, students who have poor attendance for reasons other than illness are also more likely to drop out and to fall behind their peers in the classroom.
"Literacy and education are two initiatives that the local Chevrolet dealers champion through their support of several initiatives in the Southeast region," said Mark Frost, General Manager of Jim Ellis Chevrolet. "The Atlanta area school boards are charged with the significant task of educating Georgia's youth, and our local Chevy dealers are honored to provide support to them and high schools in their communities."
Attendance was determined by an eligible student's attendance record for the first 180 days of the 2010-11 school year as submitted by the local education agencies. In order to select the winner, final lists are developed with eligible students from all participating schools. All qualified seniors must be present to win the Chevy Cruze and other prizes.
The Chevy Cruze is a great catch for a young driver! Setting new standards for safety in the compact sedan class, every Cruze comes with a segment-best 10 airbags plus traction control, StabiliTrak electronic stability control with a rollover sensor, antilock brakes, collapsible pedals, rear child safety door locks and OnStar 9.0 with Automatic Crash Response. And young drivers can save with greater fuel economy, too. The 1.4L Chevrolet Cruze Eco can achieve 40 mpg on the highway!
Later in the year, students and parents from Dunwoody High School and Chamblee High School will receive invitations to test drive a Chevy Cruze. Families who participate in this program will be able to "earn" donation dollars for their high schools during a designated time period. Keep an eye on the Jim Ellis blog for further details about this exciting program!
About Chevrolet
Chevrolet is one of America's best-known and best-selling automotive brands, and one of the fastest growing brands in the world. With fuel solutions that range from "gas-friendly to gas-free," Chevrolet has nine models that offer an EPA-estimated 30 miles per gallon or more on the highway, and offers three hybrid models. More than 2.5 million Chevrolets that run on E85 biofuel have been sold. Chevrolet delivers expressive design, spirited performance and strives to provide the best value in every segment in which it competes. More information can be found at http://www.chevrolet.com.
About Jim Ellis Chevrolet: Jim Ellis Chevrolet is an award-winning Atlanta area Chevrolet dealership carries everything from the best-selling Chevy Malibu to work trucks like the Silverado. Mr. Goodwrench service specialists are available for all GM cars and trucks, including Pontiac and Saturn. To learn more please visit the Jim Ellis Chevrolet website
###