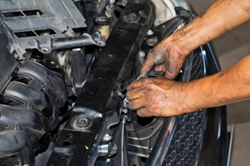 Our agreements with secondary market suppliers to list classic car parts inventory for sale is expected to payoff for our company within the next several years
Pittsburgh, PA (PRWEB) August 21, 2015
The 1971 to 1977 auto engineering that took place at the General Motors company helped produce a classic 4-cylinder motor that is now being sold in used condition at the PreownedEngines.com company. An acquisition of Chevy 2300 engines has been made through network suppliers in order to provide these blocks for sale to buyers at http://preownedengines.com/used-2300-chevy-engine.
The 2.3L automotive engine blocks that will now be a part of the web inventory at the POE website are SOHC builds. These editions feature an 8:1 ratio of compression and can be installed in Chevrolet, Oldsmobile and Pontiac cars from the mid 1970s. Because the 2300 motors were only produced for an 8-year period, these editions can be hard to locate in some areas of the country.
"Our agreements with secondary market suppliers to list classic car parts inventory for sale is expected to payoff for our company within the next several years," one rep from the PreownedEngines.com company said.
The resources that are now being used to acquire the used GM motors now listed at the POE website are located in different states. This variation in distributors should help consumers to receive ordered motor blocks faster due to fewer delays in the crate and shipping process.
"Vega, Monza and other classic vehicles can receive the used 2300 engines that are now a part of our growing inventory," said the rep.
Consumers who are unable to match a VIN number for a particular block in stock at the Preowned Engines website now have the option of receiving expert assistance. The consumer help line at 1-866-320-1065 can now be called daily for extra help matching part numbers offline.
About PreownedEngines.com
The PreownedEngines.com company has remained one of the most reliable sources to purchase used condition vehicle motors from Ford, Chevrolet and other top automotive companies. The PreownedEngines.com company has added new features to its web to support in-depth research for most popular types of replacement vehicle motors available for purchase.