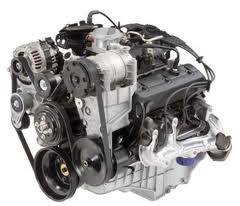 The new acquisition of this motor type is expected to increase shipments in the U.S. and Canada.
Beaumont, Texas (PRWEB) December 28, 2012
The UsedEngines.co website has added the Chevy 4.3 engine to its inventory of available engines. This new acquisition is now being sold directly to GM vehicle owners as part of a new program to help buyers find affordable engines online. This new motor acquisition is now available to purchase and has been inspected for quality control. Those that own any brand of GM vehicle that holds this V6 engine could benefit from exploring the inventory at this link http://www.usedengines.co/chevrolet-engines/chevy-43-engine.
General Motors integrated the use of the 4.3 engine in the mid 1980s and used it primarily for the GMC series. This engine type was used in the Chevrolet brands during the early 1990s. Since millions of these vehicles were sold, auto owners that rely on these V6 engines now have a secondary solution to purchase a replacement online. The new acquisition of this motor type is expected to increase shipments in the U.S. and Canada.
The warranty period is one of the most important parts of vehicle ownership. Most new vehicles come with a specific time frame for protection against minor and major damage. The secondary engine marketplace can vary when it comes to warranties and what is and is not covered in a policy. One way that the UsedEngines.co company is now helping its customers is by extending the warranty term after purchase is completed.
This new warranty phase is designed to protect the internal components as well as the exterior of each engine. The age of the unit as well as the mileage on the block are two of the considerations that are made when the new warranty terms are applied. This measure was created to provide one extra level of protection for buyers of preowned motors.
The recent acquisitions of inventory that has taken place is part of growth pattern that is expected to continue. The foreign and domestic inventory has been increased this year to provide more opportunities for buyers to select replacement motors. News of the first phase of these expansions can be found in this news release online http://www.prweb.com/releases/used-engines-for-sale/website-domestic-imports/prweb10010071.htm.
About Used Engines Company
The Used Engines Company built its company over the past two decades offline selling secondary market motors to the automotive industry. The launch of the company website in 2009 has helped to broaden the distribution options for reaching new buyers. A complete lineup of Ford, Chevrolet, GMC, Jeep, Chrysler, Toyota and other import motors are in stock inside the main company warehouse. The Used Engines Company ships each order on the same day purchase is made to eliminate the waiting period for swaps and installations to take place by vehicle owners or installers.