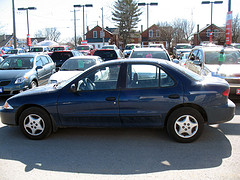 The Beretta was discontinued in 1996, and there are some shortages nationally for the now classic I4 2.0-liter blocks that fit into this vehicle
Orlando, FL (PRWEB) May 17, 2015
Support for automobile parts that are no longer being manufactured by American auto companies has helped to improve the GotEngines.com business model over the past 24 months. A new discount for Chevy Beretta 2.0L engines in used condition is now being offered to buyers at http://www.gotengines.com/blog/chevy-engines/chevy-beretta-20-engine.
The editions that are currently being promoted with the lower price point are the motor blocks that were produced from 1987 to 1989 in the United States. These LL8 models are rated for 90 horsepower and feature the TBI fuel injection system that was standard on most GM vehicles.
"The Beretta was discontinued in 1996, and there are some shortages nationally for the now classic I4 2.0-liter blocks that fit into this vehicle," said one GotEngines.com specialist.
Consumers who make a purchase for the inventory that is being promoted for a sale price at the Got Engines company will receive compatibility for the 3-speed 3T40 gearboxes when buying the 2.0L LL8 used engines. The used condition blocks are an OEM swap for the base or CL model of Chevrolet Beretta vehicles.
"The Cavalier, Beretta and Citation are some of the discontinued brands of vehicles that we've added motor support for this year," said the specialist.
The automobile motor inventory on sale at the Got Engines company this year is now shipping nationally with improved terms for warranties. A no charge upgrade to a multi-year policy is now in effect for orders that are placed by calling 1-866-320-1065 or ordered on the e-commerce website.
About GotEngines.com
The GotEngines.com company is one of the leading suppliers of automotive motors in used condition in the United States. The company has improved its inventory by connecting with national suppliers in 2015. The GotEngines.com company has one of the best long-term warranty plans for OEM parts that can be found through an American automotive parts seller on the web.