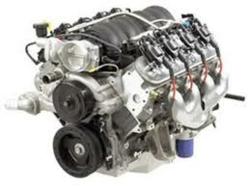 These precise builds are in combination with new testing procedures recently announced.
Dallas, Texas (PRWEB) February 28, 2013
General Motors produces the Chevrolet brand and frequently supplies one of the best warranty programs currently offered for domestic automakers. Owners of used vehicles who make replacements of the engine can find shortages and high prices when locating a motor online. The RemanufacturedEnginesforSale.com company employs Chevy engine rebuilders and is now capable of supplying three-year warranties for all stocked GM motors. This new 36-month protection time frame is an additional measure offered by this company this year. More details can be located online at http://remanufacturedenginesforsale.com/chevy-chevrolet/rebuilt-chevy-engine.
Reconditioning automobile engines is a process that has been completed since the 1970s. These processes involve stripping an engine block of old and worn parts and applying new parts to raise quality levels. While the original mileage can never be erased, the application of new OEM parts can increase the longevity and performance of a used motor. This procedure is performed by expert mechanics and the new warranty terms offered with every sale reflect the quality of the work now provided.
The Vortec, Generation II, III and IV series engines created by General Motors includes the majority of cars, trucks and SUVs in current and past production. These motors are comprised of I4, V6 and V8 sizes that provide different horsepower levels for vehicle owners.
The rebuilding procedures that are now underway at the RemanufacturedEnginesforSale.com website conform to the OEM documentation supplied by General Motors to ensure that all units are built accurately. These precise builds are in combination with new testing procedures recently announced.
The issuance of dyno testing with completed motors is helping the company provide the value that customers expect. The calibration and performance measurements that are completed with this testing prove that each build that is completed is ready for installation and zero problems were found. This new phase of testing is offered without additional charges to customers when orders are placed. The low prices that are quoted through the company website system or through toll-free telephone numbers reflect the no charge testing now included.
About Remanufactured Engines for Sale
The Remanufactured Engines for Sale company supplies refurbished motors for cars, trucks and SUVs to the public and trade industry at reduced prices. The complete inventory of Ford, Chevrolet, Dodge, Jeep, GMC, Toyota and other engines in stock are shipped the same day customers make purchases to reduce delivery delays. This company now applies warranty protection to all engines shipped for no additional customer expense. The Remanufactured Engines for Sale company offers an online quote system that makes it easy to receive immediate pricing without calling in advance by telephone.