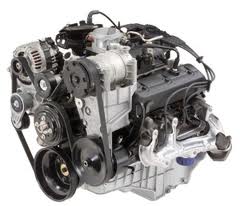 High mileage is not the only element that can deteriorate the reliability of a motor.
Beaumont, Texas (PRWEB) December 29, 2012
Warranty companies that purchase replacement motors for installation into customer vehicles can now find Chevy engines sold online at a discount. The UsedEnginesforSale.net company is now providing its inventory of affordable motors for sale. Apart from sales to warranty centers, the lineup of Chevrolet inventory is also sold directly to car owners, mechanics and others that buy strictly for replacement. More information can be found online at http://www.usedenginesforsale.net/chevy/used-chevy-engines-for-sale.
General Motors produces its line of passenger, sedan, performance, pickup and SUV vehicles for sale around the world. Millions of these vehicles are sold each year in the United States and some vehicles are involved in collisions or accidents.
While not all used vehicles are salvageable after damage, those with warranty and insurance protection often receive secondary market engine replacements. The Chevrolet motors now offered online are now offered for use in these situations.
High mileage is not the only element that can deteriorate the reliability of a motor. Weather conditions, maintenance schedules and OEM parts all contribute to the lifespan of automobile engines. One way that the UsedEnginesforSale.net company is helping to provide customer assurance in its inventory is with inspections and extensions of warranties.
Because the inventory in stock is used for replacements, the condition is now inspected before sale. The in stock inventory can now be searched entirely online at this link http://www.usedenginesforsale.net/engines.
An upgrade to the company warranty policy is designed to offer a parts warranty for an extended period. These new measures are designed to offer an alternative to customers that purchase motors without a form of protection against damage or unforeseen failures. All of the current inventory is now eligible for these incentives.
The launch of the new company website is now helping more people to find replacement engines faster online. This extension of the sales side now makes it possible for customers in all 50 states to find, research and receive a quote for pricing entirely online. These services are part of the growth that has taken place this year. The original announcement of the company website launch can be found at this link http://www.prweb.com/releases/used-engines-for-sale/ford-chevy-dodge-toyota/prweb10190723.htm.
About Used Engines for Sale
The Used Engines for Sale company launched its new website in 2012 and and been selling offline for decades. This retailer is known for offering lower than MSRP pricing for its line of preowned motors that are acquired from top wholesalers and distributors in the auto industry. Ford, Chevrolet, Jeep, Chrysler, Dodge and import engines are represented in the Used Engines for Sale company inventory online and offline. By adding warranties and no cost shipping incentives, this company has expanded its business operations to become one of the trusted online suppliers for secondary market inventory.