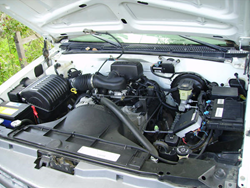 The adjustments that we have made to our preowned condition Chevrolet inventory this year are making it easier to find most of the popular V8 brands at a better price structure
Atlanta, GA (PRWEB) July 12, 2015
The truck and SUV division motors produced between 2005 and the present year will now be available for purchase in used condition through the Powertrain Guys website. The inventory now posted online includes 5.3L L33 small-block engines that are featured in V8 size at http://powertrainguys.com/5-3l-l33-engine-for-sale.
The L33 motors for Chevy vehicles that can now be purchased are builds that have the 10:0:1 ratio of compression. These units were part of the Generation III production schedule at General Motors. Consumers who purchase these builds on the web this year can choose between the standard edition 5.3-liter or high-output editions.
"The adjustments that we have made to our preowned condition Chevrolet inventory this year are making it easier to find most of the popular V8 brands at a better price structure," a PowertrainGuys.com source said.
The inclusion of the 5.3L L33 motors this year will provide opportunities for auto mechanics as well as owners of vehicles to buy authentic GM blocks that include extended warranty protection. The PTG company made significant changes to its suppliers to help achieve a better term of protection for each piece of inventory in stock.
"The used Chevy V8 motors that we are now selling are automatically included in our warranty plans that are now shipping with each block," said the source.
Orders that are placed this month or in the future at the Powertrain Guys website will receive priority processing. New team members have been hired and are now included in the customer support department that can be reached by calling the toll-free number listed online.
About PowertrainGuys.com
The PowertrainGuys.com company helps to supply consumers with viable options to purchase used condition vehicle parts at discount prices. The company built its website to display price details and stock status for thousands of parts. The PowertrainGuys.com company provides full-time customer service both offline and online to car owners, mechanics and body shop parts buyers.