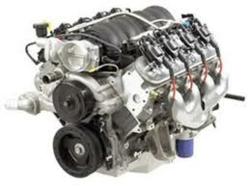 The Motor Universe company now purchases its GM inventory from more than one company to ensure quality as always found with each unit.
Beaumont, Texas (PRWEB) February 19, 2013
Chevrolet vehicles remain popular worldwide partly due to the engineering and development of the engine program at General Motors. The Chevrolet brand includes cars, trucks and SUVs that sell millions of units annually. The replacement motor industry retailer, MotorUniverse, has applied a web only discount to its Chevy motors in stock. This new discount includes I4, V6 and V8 sizes that are most commonly used for replacement purposes. More information can be found on the Internet at http://motoruniverse.com/chevy-motors-for-sale.
Names like the Cavalier, Cruze, Camaro, Beretta and Silverado have helped introduce a range of power and opportunity for vehicle owners. The motors that are used in these vehicles are typically inserted into more than one brand. This has allowed for development and testing to be completed across the entire inventory of General Motors. Secondary market vehicle owners who purchase GM vehicles can find that motors can vary in prices.
The new discounts applied online seek to provide low price points for all buyers purchasing to make GM vehicle replacements. Acquisitions of motors by retailers is usually a process completed through distributors.
Authorized companies that sell to automotive dealerships usually supply the secondary market industry. Since some dealers can have more than one distributor, things like mileage and engine age can fluctuate and affect consumer sales. The Motor Universe company now purchases its GM inventory from more than one company to ensure quality as always found with each unit. These preowned engines represent what is currently found in the company inventory.
The recent discounts now announced for sales made online or by toll-free number are in combination with a Chrysler reduction in price at this company. The Chrysler engines were the first in the inventory to receive this new pricing in order to provide lower replacement costs for customers.
More company brands are expected to be discounted throughout this year in an effort to reduce the price tags attached with all company inventory. The news report for the Chrysler price drop can be found at http://www.prweb.com/releases/chrysler-motors-for-sale/motors-for-sale/prweb10281056.htm.
About Motor Universe
The Motor Universe company sells preowned motors that are purchased from top distributors in the automotive industry. This company provides these units to businesses, car owners, truck owners and others purchasing engines for installs. A series of price changes have helped this company find the price point customers prefer when purchasing secondary engines. The Motor Universe company supplies automotive engine warranties with all purchases. The majority of stock receives a two-year protection time frame after purchase is completed. By updating its website on a regular basis, new pages are created with informative information for customers performing engine research.