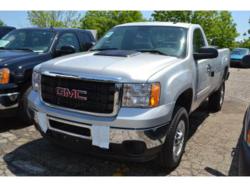 Over 600 vehicles on sale including award-winning Chevy Silverado trucks and GMC Sierra trucks for amazing discounts up to $15,000 while supplies last
(PRWEB) September 20, 2011
There are car sales. There are car clearances. And then there are pre-construction car clearance sales.
On September 14, Addison GM launched a pre-construction vehicle clearance so massive that customers have to witness it to believe it.
The dealership is set to undergo construction and more than 600 new Chevrolet, Buick and GMC vehicles need to leave the lot. The model year clearout includes best sellers like the 2011 Chevrolet Silverado, Motor Trends' 2011 Best Truck of the Year (Heavy-duty model), and the GM Sierra, which shares the 2011 Truck Trends Best in Class award with the Silverado.
Relocation to another dealership is not an option. Addison managers have been instructed to entertain "all offers" for the vehicles and sell them regardless of margin.
How low are we willing to go? Put it this way: current industry guidelines don't allow Addison to advertise our prices but the model year clearout allows for discounts as high as $15,000 on a single vehicle.
To purchase one of Addison GM's 600-plus new vehicles at an incredible, once-in-a-lifetime cost, all customers need to do is show up and name their price.
Visit http://www.addisongm.com today to find the clearance showroom nearest you.
Addison GM services the Greater Toronto Area (GTA) with great deals on new and used Chevrolet, Buick and GMC cars and trucks. Our dealerships, Addison West and Addison East, are known for friendly, accessible sales staff and top-notch service specials. To contact Addison West (6800 Turner Valley Road, Mississauga, Ontario), please call 877-801-4595. To contact Addison East (1220 Eglinton Avenue East, Mississauga, Ontario), please call 877-314-3244. For more information about Addison GM and other upcoming sales events, visit the Addison Autoblog at http://autoblog.addisongm.com/
###