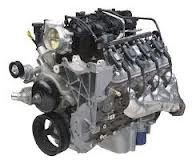 The 100,000-mile position is typically used as the benchmark to grade a used engine.
Seattle, Washington (PRWEB) December 11, 2012
Chevrolet engines represent one of the best selling lines in North America and one retailer has reduced its selling price for the small block size. The 5.3 and 5.7 Chevy small block engine inventory at the Remanufactured Engines for Sale company is now reduced in price as an incentive to engine buyers. This move is expected to help those that replace engines in used vehicles or inside vehicles that are involved in accidents. Pricing information and in stock inventory can be found at this link: http://www.remanufacturedenginesforsale.com/chevy-chevrolet/chevy-small-block-engine.
General Motors invested in its V8 big block as one of its first engine series and a smaller V8 was created in the 1950. It was this change the lead to the smaller block size becoming the pattern for other automakers to follow. The new small size engines were used in most of the performance vehicles that have been produced for the past 50 years.
The RemanufacturedEnginesforSale.com company is now one of the largest sources to find GM engines on the Internet that are built according to the General Motors OEM specs.
Preowned automobile, truck or SUV engines are usually sold to dealers or wholesalers that resell motors on the secondary market. These parts can be high or low mileage depending on the year of the vehicle where the motor is removed. The 100,000-mile position is typically used as the benchmark to grade a used engine. Engine rebuilding provides a way that the OEM quality of an engine can be restored with little risk of errors or parts breakdowns according to research.
The price reduction now underway at the RemanufacturedEnginesforSale.com company is part of a business expansion that has taken place over the last 3 years. One of the latest changes is the integration of a brand new warranty that is designed to provide better coverage for automotive engine buyers.
This new warranty combines unlimited mileage as well as OEM parts and labor into one warranty contract. This new document is now attached with the sale of all rebuilt engines sold online or offline. A news story of the original announcement for the warranty upgrades can be found here http://www.prweb.com/releases/remanufactured-dodge/engines-for-sale/prweb9854325.htm.
The new Chevy small block inventory price reduction and subsequent inventory increases now coincide with a brand new engine quote system. Internet-only quotes can be obtained through a new quotation system built for customers to use. This new way to distribute pricing was created to help those that require faster quotes or that submit quotes after business hours have ended.
This streamlined performance is one way that customers can receive the most updated pricing apart from calling the standard toll free phone number to receive assistance. This quote system can be accessed from this link online http://www.remanufacturedenginesforsale.com/blog.
About Remanufactured Engines for Sale
The Remanufactured Engines for Sale company holds one of the largest online inventories of General Motors, Ford Motor Company, Chrysler, Jeep, Toyota and Honda motors on sale. Frequent acquisitions and constant building of late model and classic engines has helped this company to expand its operations online and offline. The Remanufactured Engines for Sale company sells to automotive vehicle owners and business-to-business to cover dual sides of the auto parts industry. These measures apart from technological upgrades have helped to grow sales in 2010, 2011 and 2012.