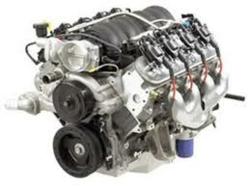 These new builds include the Vortec 5.3 V8 engine to provide a resource for buyers to locate these engines on the Internet.
Indianapolis, Indiana (PRWEB) February 23, 2013
General Motors has produced its Chevrolet Tahoe since 1995 and this large SUV has remained popular with buyers. The RemanufacturedEnginesforSale.com company is now rebuilding the Chevy Tahoe engine exclusively for truck owners and mechanics who install these replacements for customers. These new builds include the Vortec 5.3 V8 engine to provide a resource for buyers to locate these engines on the Internet. More information can be found by visiting remanufacturedenginesforsale.com.
The 5300 Vortec engine series has been used in the Escalade and Avalanche aside from the installations in the Chevrolet branch of General Motors. This popular engine size remains in demand by companies replacing engines for the public and by owners of vehicles that require swaps and replacements.
The new builds that are now sold are expected to provide the OEM power level and uninterrupted performance that new engines provide. These units are rebuilt in a newly remodeled engineering facility.
The addition of the Chevrolet Tahoe motors at the RemanufacturedEnginesforSale.com company is part of upgrades that have taken place over the past 24 months. The Ford, Dodge, Toyota and GM inventories have all received increases for the most requested builds by the public. The SUV and pickup truck engine inventory that is built by this company is now shipped the same day that orders are placed. These expedited shipments are offered at no additional cost to buyers.
The V8 engine sizes that have been added by this company are in an effort to help those requiring larger motors for replacement. Many companies provide I4 and V6 sizes that are often used in passenger cars, crossover SUVs and sedans.
The new offerings of the V8 blocks is one way that this company is helping to provide reconditioned engines in larger sizes. A news announcement for these engines acquisitions can be read online at http://www.seattlepi.com/business/press-releases/article/Refurbished-Engines-for-Sale-Now-Include-V8-4225274.php.
About Remanufactured Engines for Sale
The Remanufactured Engines for Sale company provides refurbished automotive, truck and SUV motors to trade industry clients and to owners of vehicles. This company distributes its builds in North America and to Canada in an effort to offer its inventory to a wider range of the public. The low price measures that are created by this company is in an effort to reduce replacement engine costs compared with a new engine installation. The Remanufactured Engines for Sale company ships all engines by common freight carriers and provides no cost warranty protection for a period of three years after purchase is complete.