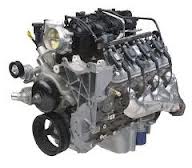 The 295 to 315 horsepower ratio included inside of this motor is one reason that it has become a popular replacement in used vehicles.
Hartford, Connecticut (PRWEB) December 12, 2012
The Chevy Vortec 5300 engine is one of the Generation III motors produced by GM that has enjoyed one of the longest production runs. This engine is now custom built for dealerships that use these for replacements in used or new vehicles. More information about this engine acquisition can be found at this link http://www.crateenginesforsale.com/chevy/chevy-vortec-5300-engine.
The CrateEnginesforSale.com website is now providing this service to help dealers locate these freshly built motors for immediate installation for customer vehicles.
The original 5300 Generation III engine was created in 1999 by General Motors. This new type was used primarily in the Chevy Silverado 1500 truck series as well as its sister company GMC. The 295 to 315 horsepower ratio included inside of this motor is one reason that it has become a popular replacement in used vehicles.
The new building efforts that are taking place for this new motor series is completed by automotive experts. A trained staff of engine rebuilders now take on the task for the CrateEnginesforSale.com company to build this line of 5.3 V8 engines. These efforts take place in the recently renovated engine facility that now produces these builds daily.
New measures have been put in place to ensure that supply and demand are equally matched for online and offline sales. Recent additions like expansions of the company warranty policy are now in effect. While some builders of GM engines provide limited coverage, new 3-year warranties are offered with the sale of each custom built motor.
This new warranty is able to protect the labor as well as OEM parts from General Motors that are applied during the construction process. Dealerships, salvage companies, mechanics and average vehicle owners now receive this revamped warranty structure. This effort is now combined with the standard quality control and dyno tests that take place when a build is finished and before a crate motor is shipped.
These tests are performed to ensure the effectiveness of the build and to calibrate the parts of each Chevy V8 engine. The newly added Vortec 5.3 motors as well as the current inventory in stock now receive these important diagnostic tests. It is from the use of a dynamometer that ratios and performance data can be compared to a brand new Gen III engine from GM.
About Crate Engines for Sale
Engine building and selling is the core foundation fo the Crate Engines for Sale company. More than two decades of selling motors offline has helped this company create partnerships in the U.S. The 2012 launch of the redesigned company website is now helping this retailer to innovate its company as an OEM engine retailer. The Crate Engines for Sale company offers discounted motors that are custom built for customers that need a reliable replacement. Through low pricing and a generous warranty program, new and existing customers receive service from one of the leaders in new crate sales online.