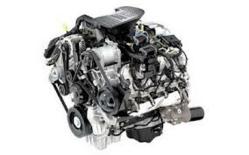 The GM built 5700 Vortec series fits into pickup trucks and SUVs.
Houston, Texas (PRWEB) November 29, 2012
Got Engines has announced that the Chevy Vortec 5700 engine series will now be sold online. This engine retailer has added this V8 engine to its online inventory to help engine buyers find a used condition engine for replacement. More information about this inventory upgrade is available here http://www.gotengines.com/blog/chevy-engines/chevy-vortec-5700-engine.
The GM built 5700 Vortec series fits into pickup trucks and SUVs and remains one of the popular engine styles on the preowned engines market.
General Motors began using the Vortec series 5700 V8 engine in the mid 1990s in its line of vans and pickup trucks. This engine is one of the final Generation I small-block engines produced by GM. One reason that this motor remained a popular replacement is due to its higher than standard horsepower ratings.
The 250 to 350 range of horsepower has helped this engine become one of the most in demand in the GM lineup. The Got Engines acquisition of this engine for sale is expected to increase this company's customer base for online engine sales.
Got Engines has built its online inventory since its introduction to online engine buyers in 2009. Nearly all of the General Motors that are produced and still in production are found inside of the main warehouse for this engine retailer. The new addition of the 5700 series is offering one resource online for engine buyers to find this V8 engine for sale.
Apart from the engine inventory upgrades, new incentives have been added to the Got Engines website. One of the most requested has been free shipping for engines. The cost to send a typical automobile engine can be one of the factors that someone uses when deciding to buy online.
This new elimination of the cost of shipment is one way that Got Engines is helping used engine buyers to reduce the price of engine replacements.
The addition of a new online quote system has helped the GotEngines.com company to send quotes to engine buyers through the Internet. This new and improved quotation system provides alternative options to telephone based price quotations. Engine buyers that use this quote system receive up to date pricing entirely online to help shorten the sale price distribution process.
Periodic engine updates that take place on the GotEngines.com website can be reviewed by going to http://www.gotengines.com/blog online.
About Got Engines
The Got Engines company launched its website online in 2009 although it has decades of engine selling experience offline. One of the largest used engine inventories that exists online now comes from the GotEngines.com website. Engines from Ford, Chevrolet, Dodge, Chrysler, Toyota, Honda and Isuzu are sold daily to engine buyers around the world. Incentives like free shipping and low prices have helped Got Engines to build its online reputation and customer loyalty as an online seller of used automobile, pickup truck and SUV engines.