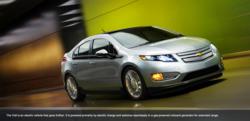 The future is here, and America is back in the game.
San Francisco, CA (Vocus/PRWEB) June 24, 2011
Bay City Chevrolet, the Oakland and San Francisco GMC truck and Chevy car dealer, has announced the availability of the electric/gas hybrid Volt. Bay Area residents are encouraged to come take a test drive at the showroom located at 3093 Broadway in Oakland, California.
"The future is here, and America is back in the game," said Motor Trend magazine about the all-new Chevrolet Volt as it named the car the "2011 Motor Trend Car of the Year®." The annual award is one of the most prestigious honors bestowed in the auto industry and further proof that it's a new day for Chevrolet, not to mention the entire auto industry.
Powered by electricity without being tethered to electrical outlets, the Volt does everything a great car does and, according to Motor Trend, better than any other. It's further proof that today, tomorrow and on into the future, Chevy Runs Deep.
By its very nature, the all-new Volt is engineered to change the face of transportation as we know it. Nearly every component of the Volt has been selected to get the most out of every charge, including:

Aerodynamics that maximize the distance per charge and miles per gallon of fuel
A closed grille and aerodynamic back edges contribute to its fuel efficiency
Energy-efficient Bose® Sound System
Goodyear Assurance Fuel Max tires
Volt has two LCD screens that display speed, battery power, range to recharge or re-fill as well as an efficiency gauge that gives the driver real-time feedback. On the center console, there is a seven-inch diagonal high-resolution screen with touch-sensitive control that helps owners get the most out of their Volt.
More power from a superior battery
The Volt battery has gone through numerous environment-specific tests, including corrosion and hot- and cold-weather testing, and the results were so promising that the 16-kWh lithium-ion battery pack is backed by a 100,000 mile / 8-year warranty.
Most people can commute gas-free and tailpipe emissions-free for about $1.50 of electricity per day—and it can be set to charge in off-peak hours for even greater savings. Volt will be fully charged in about 10 hours, depending on climate, when plugged into a standard 120-volt line, or as little as 4 hours using a dedicated 240-volt line.
A small, quiet on-board gas generator creates electricity that powers the Volt as it is driven for hundreds of miles on battery and gas power. When running on electricity, the Volt can reach a top speed of 100 mph in near silence. Free of the typical noise of the internal combustion engine, the Volt offers a quieter, more relaxing ride at any speed.
Regenerative braking captures the energy from forward motion that would otherwise be lost when the car slows or stops, and then converts it into electricity, helping to make the Volt even more efficient to drive.
The lithium-ion cells outperform nickel metal hydride cells (found in today's hybrids) in terms of life cycle, and a liquid thermal cooling and heating system keeps the battery at a comfortable temperature as it's being charged and discharged.
For more information about the Chevy Volt or any of Bay City Chevrolet's other vehicles or services, please call them at (510) 250-3676 or visit them on the web at http://www.baycitygm.com.
About Bay City Chevrolet
Bay City Chevrolet is a San Francisco and Oakland GMC truck and Chevy car dealer that specializes in GMC and Chevy car sales. The dealership, the only Oakland – San Francisco Chevrolet dealer maintains a large inventory of new Chevrolet and GMC vehicles, including the exciting new Camaro, Aveo, Volt and Cruze.
###