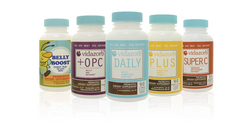 They say they like the taste and take it regularly. There is no fuss or fight and they have no idea that they are getting healthier by doing it.
Beltsville, MD (Vocus) November 5, 2010
According to the CDC, last year's challenges with the H1NI strain of influenza may continue to wreak havoc throughout the 2010-11 cold and flu season¹. Statistics on what to expect this fall and winter are doing little to allay fears about the approaching 'high tide' of this most contagious time of the year. Last year, the World Health Organization predicted that one third of the entire world's population will be infected with Swine Flu by 2012. Add on to these numbers the regular colds that come around every winter, and you have the prescription for one miserable season. While this year's flu vaccine will protect against three types of viruses including H1N1, a well stocked 'cold and flu care kit' complete with Vidazorb® probiotics (those good bacteria that reside in our gastrointestinal tract) is a good idea.
Embarking on a probiotic regimen with a high quality supplement like Vidazorb® may lessen cold and flu symptoms by boosting immunity. As published in the journal Pediatrics, a study found that probiotic supplements caused a significant reduction in fever, cough and runny nose in children². The authors concluded that probiotics offered a "safe, effective way to reduce fever, rhinorrhea, and cough incidence and duration and antibiotic prescription incidence, as well as the number of missed school days attributable to illness, for children 3 to 5 years of age."
In addition, probiotics have been clinically shown to boost immunity, making the body better able to resist the various viruses and bacteria that are the cause of so many illnesses. The results of a recent clinical study found strong evidence that immune functionality can be improved by daily supplementation with certain probiotic strains. In this study, Chr. Hansen's probiotic strains Bifidobacterium BB-12® and L. casei 431® specifically increased the immune response to the influenza vaccine³.
A Swedish study conducted in 2005 also showed that probiotics helped prevent respiratory infections like the common cold, and that those in the study group who ingested probiotics regularly took only half as many sick days as those who did not use a reliable probiotic supplement⁴. Perhaps best known for their gastrointestinal benefits, probiotics can help lessen the diarrhea, stomach upset, and nausea often associated with winter illnesses.
Vidazorb® chewable probiotic supplements offer the perfect way to ingest a therapeutic dose of beneficial bacteria. In delicious formulations that carry up to 10 billion CFUs in each tablet, Vidazorb® is easy to tolerate even when your stomach is queasy. Requiring no refrigeration and shelf stable for well over three years, Vidazorb® can be enjoyed anywhere one needs to keep the 'bad bugs at bay.'
"My kids liked Vidazorb® and used it daily," said Lisa Moore, mother and founder of the Frugal Family Fun Blog. She added, "I have noticed they haven't been sick and (I don't know if this is related) have been having better regularity of their digestion, if you catch what I'm trying to say. They say they like the taste and take it regularly. There is no fuss or fight and they have no idea that they are getting healthier by doing it."
About Vidazorb®
Vidazorb® (http://www.vidazorb.com ) represents the development of superior shelf-stable,
non-refrigerated, chewable probiotic formulations to provide essential support for core health needs. Research and development, together with a commitment to quality and efficacy, defines Vidazorb® as a brand of integrity and excellence. Living out the motto "You Are What You Absorb" Vidazorb uses only top of the line ingredients from Chr. Hansen. For more information, or to arrange an interview with a company spokesperson, please contact Leesa Raab, leesa(at)adinfinitumny(dot)com or Beth Hurtubise, beth(at)adinfinitumny(dot)com.
¹Center for Disease Control and Prevention Web site: http://www.cdc.gov/flu/about/qa/1011season.htm#antiviral
²Leyer G, Li S, Mubasher M, Reifer C, and Ouwehand A. Probiotic Effects on Cold and Influenza-Like Symptom Incidence and Duration in Children. August 2009. Pediatrics. Vol. 124 No. 2 pp. e172-e179).
³http://www.npicenter.com/article/Products/New-Study-Probiotics-May-Help-You-Fight-Off-the-Flu.aspx
⁴Py T, Vlaicu S, and Anders Z. Increasing work-place healthiness with the probiotic Lactobacillus reuteri: A randomized, double-blind placebo-controlled study. November 2005. Environmental Health: A Global Access Science Source, 4:25doi:10.1186/1476-069X-4-25.
###