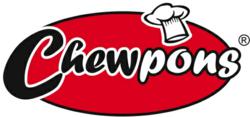 Chewpons is the only deal site that targets Food and Drink specifically and donates a portion of every sale to local charity. We feel that giving back to the community is just as important as offering consumers great deals. Adam Marks, Founder/CEO
Boca Raton, FL (PRWEB) June 24, 2011
Chewpons.com is proud to announce the first daily deals were sent out to consumers today to officially launch their platform in the South Florida area. Chewpons.com is the only site featuring deals on Food, Drinks & more, where a portion of every deal sold goes to a local charity. Starting today, people will be able to visit http://www.chewpons.com, enter their e-mail address and zip code, and immediately start receiving Daily Discounted Deals up to 90% off in their email inbox.
Consumers will be able to instantly purchase these deals and print them out for immediate use at the featured business. The Chewpon will only be available for purchase for a period of 24-96 hours, though the expiration date on the Chewpon will be anywhere from 6 months to 1 year from date of purchase.
There is no group minimum or any type of service charge added to the actual Chewpon price. If the consumer wants a deal, they can buy the deal. Often the merchant allows the same consumer to purchase multiple deals of the same Chewpon to use at various times.
Each time a consumer purchases a Chewpon, a portion of the proceeds will go to support the charity of choice of the featured business that day highlighted in their trademarked "Daily Deal Donation" box on their homepage. If a business does not have a desired charity, then they may choose to give the proceeds to one of Chewpons house charities, such as the local Food Bank or Meals on Wheels.
Chewpons also rewards referrals with their unique "Chewbucks" program, which rewards existing users with discounts for recommending new ones.
Sign up today at http://www.chewpons.com and help support local business owners, while also giving something back to others in the process. For businesses, Chewpons represents a no risk way for restaurants and all types of merchants to market their products and services at no cost and without any risk whatsoever. Contact us for details about Chewpons and Chewpons Side Dishes for non food related merchants.
About Chewpons LLC:
Chewpons was founded and is currently run by Adam Marks, who has over 15 years of online and offline advertising and marketing experience at companies such as Google, Infinity (CBS) Broadcasting, and Comcast, and has been involved in a number of digital start-ups as well.
The Chewpons name and logo were first trademarked back in 2005 as a way to offer printable online coupons to consumers for their favorite local restaurants.
For much of the past 6 years, the name and website sat dormant, just waiting for the right opportunity to rebrand itself as something fresh and new.
With the influx of "Daily Deal" type sites popping up everywhere, he felt the time was right to present a niche deal site, starting in MD, and expanding to South Florida, with a local feel, and one that helps others as well, by donating partial proceeds to charities throughout the communities in which we live.
###