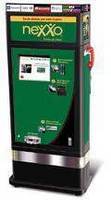 Roswell, GA (PRWEB) March 2, 2011
Chexar Networks, Inc. ("CHEXAR"), the nationwide leader in full service check cashing, check-to-card, and check guarantee solutions, and Nexxo Financial Corporation ("NEXXO"), the leader in self-service remittance, have launched the first full service check cashing kiosk in the market capable of cashing any type of check utilizing any type of consumer identification allowed by law.
Nexxo has over 1,000 self-service kiosks in the market today which have processed millions remittance and bill payment transactions. Chexar has thousands of client locations around the country that offer full service check cashing and check-to-card services to under-banked consumers. In partnership for the past year, Chexar and Nexxo have developed a kiosk-based solution which has succeeded in maintaining Nexxo's trademark user simplicity while adding Chexar's trademark approval rates on all checks and IDs.
Dave Alvarez, Founder and CEO of Nexxo commented "every retail and financial services partner we have wants one machine that can do it all: cash a check, pay a bill, send money, load a prepaid card, sell a phone card – and do it all in few seconds with a simple easy customer experience. We have been able to leverage our extensive experience in kiosk based money transfer and bill pay, and Chexar's check cashing technology to finally provide the solution everyone has been asking for. Now as a retailer or financial service provider you no longer need a fully staffed money center to meet all the financial needs of the 100+ Million and growing under-banked market. You can now leverage technology to economically offer the best services available, open all of the hours your location is open, giving your customers a faster, easier and simpler experience."
The first implementation went live late last year in Nexxo owned retail locations in Los Angeles, and is now being made available to partners. The companies are seeing significant demand both among their existing client base and in new markets. Drew Edwards, Chexar Founder and CEO commented "I believe that self-service for the under-banked consumer has a place in the same way ATM's have had a place for the banked consumer. For that to happen, the core service for this consumer, check cashing, had to be fully available at the self-service kiosk. We think what we have built with Nexxo breaks all previous barriers and will set the standard for future devices. This will enable our clients to expand their reach and availability in a more cost effective way."
About Chexar:
CHEXAR® is a Technology Enabled Business Process Outsourcer (BPO) that provides its clients with solutions for truly serving the nation's underbanked population now estimated to be almost 100 million people. The gating factor for these consumers is their need to change all types of checks into cash or value.
Chexar's flagship product enables any business to convert ALL types of checks to cash or to guaranteed value loads onto Prepaid Cards or other prepaid products. The solution combines multiple national databases, rules engines, and proprietary technology with redundant 24/7 risk management centers. Chexar's risk centers are staffed with experts at check cashing and check fraud and can intervene in minutes to enable clients to successfully serve all consumers with all forms of identification cashing or loading all types of checks. For more information, please visit http://www.chexar.com.
About Nexxo:
Nexxo has been the leader in leveraging kiosk technology for many years to provide money transfer, bill pay, and phone card services. With over 1,000 locations, millions of transactions and hundreds of millions of dollars processed, Nexxo's proven technology has delivered growth rates far in excess of industry norms. Nexxo's technology and intellectual property is now being offered to retailers, banks, money transmitters and financial service providers nationwide. For more information, please visit http://www.nexxofinancial.com.
###