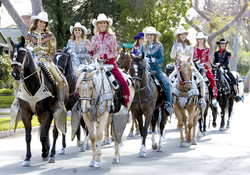 Appearing in the Tournament of Roses Parade for the fourth year is an honor, but it's even more special this year because of our partnership with the Veterans Medical Leadership Council Returning Warriors Fund
Tempe AZ, (PRWEB) December 22, 2009
The beautiful, talented and accomplished women of the Cowgirls Historical Foundation http://www.cowgirlshistoricalfoundation.com each have a unique background in equestrian competition, rodeo royalty, and western entertainment. They are brought together by their love of horses and desire to preserve our Western Heritage. They are a non-profit organization and they 'Saddle Up for Service" to serve their community. Based in Tempe Arizona, their initiatives are met through creative educational programs and services, active community service and volunteerism, and participation in local, state, and national events.
The CHF Cowgirls will perform an exciting high-speed drill at the Equestfest at the Los Angeles Equestrian Center on Tuesday, December 29 at 11:00am. The drill will feature high-energy music, silver saddles, fast horses, trick-roping and a tribute to America's 'treasures'. After the drill performance the CHF Cowgirls and their horses will interact with the children at the event as they sign autograph cards and calendars.
Sponsored by Perryman's Western Wear in Cave Creek, AZ the theme of the Cowgirls Historical Foundation's 2010 calendar is America the Beautiful. The patriotic calendar features the CHF Cowgirls in western apparel and their horses. Each page is based on a stanza of the words to the song, "America the Beautiful".
The CHF Cowgirls will Saddle Up for Patriotism in vintage rhinestoned outfits from the early and mid-twentieth century sitting atop sterling silver saddles as they dedicate their ride in the Rose Parade to our Veterans. It provides them an opportunity to show appreciation and gratitude to the men and women serving in the military. It also promotes patriotism and love of country which are an integral part of our Western Heritage.
"Appearing in the Tournament of Roses Parade for the fourth year is an honor, but it's even more special this year because of our partnership with the Veterans Medical Leadership Council Returning Warriors Fund," said Patricia Gomez, president of The Cowgirls Historical Foundation. The fund provides assistance to military members returning from active duty who need a financial "safety net" as they transition back to civilian life.
###