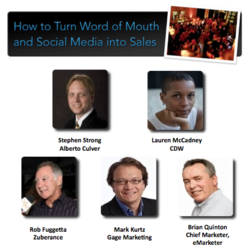 Marketers looking to turn WOM & Social Media into Sales will get actionable insight at an exclusive panel event on Wednesday, May 11th at 5:30pm in downtown Chicago.
San Carlos, CA (PRWEB) May 04, 2011
Marketers looking to turn Word of Mouth and Social Media into Sales will get actionable insight from leading social media and Word of Mouth experts, plus marketers from top brands at an exclusive panel event on Wednesday, May 11th at 5:30pm in downtown Chicago.
Event Details
Date: Wednesday, May 11, 2011
Time: 5:30pm – 8:30pm CST
Location: River East Art Center, 435 East Illinois Street Chicago, IL
Twitter hashtag: #CHIBAS
Expert Panel

Lauren McCadney, Senior Segment Marketing Manager, CDW
Stephen Strong, Global Director of Interactive, Alberto Culver
Mark Kurtz, Partner & Chief Growth Officer, Gage Marketing
Rob Fuggetta, Founder & CEO, Zuberance
Moderator – Brian Quinton, Editor, eMarketer, Chief Marketer & Promo Magazine
Practical Tips for Driving Measurable Increases in Leads, Sales and Traffic from Word of Mouth & Social Media
Attendees will learn:

Real-World Case Studies: How leading brands are leveraging Word of Mouth and social media to drive customer acquisition, leads and sales.
Measuring ROI: How to measure the ROI of Word of Mouth and social media efforts.
Best Practices: Do's and don'ts of effective Word of Mouth and social media marketing.
Energizing your brand's Advocates: How to turn your brand's highly-satisfied customers into a powerful marketing channel.
This panel event is presented by Zuberance, a social media marketing company focused on energizing Brand Advocates.
To request an Invitation, visit http://bit.ly/CHIBASREG.
Note: The Chicago panel event is following WOMMA's School of WOM event in Chicago. Zuberance will be sponsoring the networking lounge with an integrated experience where attendees can highlight the brands they recommend in real-time.
About the Brand Advocacy Series
The Brand Advocacy Series is an ongoing series of events hosted by Zuberance to explore how companies can energize their highly-satisfied customers (AKA "Brand Advocates") to drive positive Word of Mouth & sales. The Brand Advocacy Series features leading brands, marketers, and others who are driving the next phase of the social media revolution by turning WOM & social media into measurable business results.
About Zuberance
Zuberance is the leading social marketing company focused on authentic Brand Advocates.The Zuberance Advocate Platform makes it easy for companies to systematically identify and energize their Brand Advocates on Facebook, Twitter, shopping sites, and on other social networks and communications channels, driving measurable increases in leads, sales, and positive Word of Mouth. Zuberance is the winner of the prestigious 2009 Forrester Groundswell Award for the best social app in the Energizing B2C category. To learn more about Zuberance, visit http://www.zuberance.com, or follow us on Twitter @zuberance.
# # #