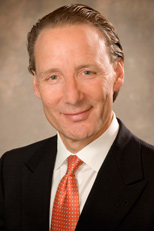 Protected bicycle lanes are an effective safety strategy, and IDOT should allow the City of Chicago to proceed with them.
Chicago, IL (PRWEB) February 16, 2013
Patrick A. Salvi, a Chicago attorney who represents victims of bicycle accidents and motor vehicle accidents, today urged the Illinois Department of Transportation (IDOT) to go forward with allowing the City of Chicago to designate protected bicycle lanes on state-controlled streets in the city.
Shortly after he took office, Chicago Mayor Rahm Emanuel announced a plan to install 100 miles of protected bicycle lanes in the city by 2015. Protected bicycle lanes are set off from the street by a passive barrier such as a parking lane or flexible posts. The barrier separates motor vehicles from bikes.
However, according to a recent Chicago Tribune article, the State of Illinois controls portions of several roads where protected bicycle lanes are planned. IDOT says it wants more evidence that the lanes increase safety, the newspaper reported.
Officials told the newspaper that IDOT will collect at least three years' worth of traffic accident data and then make a determination based on the analysis, according to the Tribune. IDOT says that existing information is inadequate because protected bike lanes are new here, the newspaper said.
"IDOT has legitimate concerns about studying the sections of roads under consideration, but the state's plan to collect data for three years before making a decision leaves a lot of bicyclists in danger of being hit by cars for those three years," said Salvi, managing equity partner at Salvi, Schostok & Pritchard P.C., one of the leading personal injury law firms in Chicago and Illinois.
"Protected bicycle lanes are an effective safety strategy, and IDOT should allow the City of Chicago to proceed with them," Salvi said.
According to Salvi, existing data shows how vulnerable Illinois bicyclists are to injury and death in car accidents.
The most recent Illinois Crash Facts and Statistics report shows that 3,107 "pedalcycle" crashes occurred in the state in 2011, with 27 fatal crashes and 2,912 cycle crashes resulting in personal injury. IDOT defines "pedalcycles" as bicycles, tricycles, unicycles and "big wheels."
From 2009 to 2011, IDOT's reports show a total of 9,961 pedalcycle crashes, inlcuding 71 fatal crashes and 9,456 personal injury crashes.
Salvi pointed to a study published in the American Journal of Public Health in 2012 that found that the risk of injury to bicyclists and pedestrians in areas of New York City diminished with the installation of barrier-protected bike lanes.
Salvi said his firm will continue to support efforts to improve safety on roads in Chicago and to stand up for the rights of those who have been injured in accidents caused by negligence.
About Salvi, Schostok & Pritchard P.C.
Salvi, Schostok & Pritchard P.C. is a leading Chicago personal injury firm with offices in Chicago (22 West Washington Street, Suite 1600, Chicago IL 60602) and Waukegan (218 North Martin Luther King Jr. Avenue, Waukegan, IL 60085). In addition to representing clients in catastrophic personal injury, medical malpractice, aviation and product liability cases, the firm focuses on car and truck accidents, airplane and train accidents, construction injuries, birth injuries, brain injuries, unsafe properties and animal attacks. The firm has obtained more than $650 million on behalf of its clients in personal injury and wrongful death cases, including 195 multi-million dollar verdicts or settlements. For more information, call (312) 372-1227 or use the firm's online contact form.