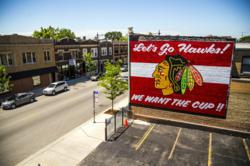 We wanted to give the people of Chicago and fans something that they can see everyday to cheer on their team and remember the exciting 2013 season. - Ches Perry
Chicago, IL (PRWEB) June 13, 2013
Right Way Signs of Chicago announces the completion of the Chicago Blackhawks hand-painted wall mural.
Members of the press are invited to view the mural and speak with the artist and team behind it from 12:30pm - 5pm on Friday, June 14th. The location of the mural is 4251 N. Milwaukee Ave, Chicago, IL between Montrose and Irving Park in Portage Park neighborhood. Community and business leaders have been invited to celebrate the completion of the mural.
Chicago-based sign painter, hockey player and fan Ches Perry, 63, painted the mural that cheers on Stanley Cup contender Chicago Blackhawks. Since Tuesday Perry has been painting the Chicago Blackhawks logo and messages, "Let's Go Hawks!" and "We Want The Cup!"
Right Way Signs of Chicago is a full-service custom sign company located In Chicago, IL and specializes in hand-lettered signs and brick wall lettering, logos and murals.
For more information visit http://www.RightWaySigns.com or visit facebook.com/RightWaySigns.
###