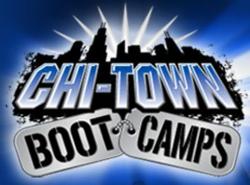 In order to succeed greatly, you have to sacrifice greatly. Nobody ever said it would be easy. – Mike Pruitt
Chicago, IL (PRWEB) November 19, 2011
Craig Kastning a Chitown boot camp personal trainer says that not every woman bounces back from pregnancy quickly. While the body's natural tendency is to lose fat, it helps to have a Chicago personal trainer there for motivation, encouragement and accountability. For a limited time, ladies can try our fat loss boot camp for an entire month for only $47.
According to most doctors average pregnancy weight gain ranges from 25 to 35 pounds. This can be discouraging for women who have always maintained a certain weight throughout their entire lives. Other women may even pass the 200 pound mark for the first time, which can also be very disconcerting. To bounce back as quickly and efficiently as possible, it's recommended that women work with a certified Chicago boot camp.
"In September of 2008, I was complaining to someone that I hadn't lost the baby weight and that I had 'just had' twins," says Chicago personal trainer client, Paige Edwards. "Then I heard myself saying 'they just turned 2' and it hit me that I had kept the weight on for two years and it was time to stop making excuses." When Paige began working out with her trainer, she was not only amazed that she dropped to a size 6 in her first month of training, but also that she could actually enjoy working out. Over the next few months, she lost another 9 pounds and got back to her normal size 4.
Instead of dieting right after babies are born, personal trainers in Chicago often recommend eating a balanced and nutritious mix of foods, including healthy snacks like whole wheat crackers, apple slices and carrot sticks. It's important for women who are breastfeeding to stay up to 1,800 calories per day to ensure they are getting enough nutrition for their developing babies. Women typically burn a good 300 calories breastfeeding their babies.
There are certain "super foods" that new moms should add to their diets. Salmon, sardines and light tuna have the essential omega-3 fatty acid, DHA, which contributes to a healthy brain and nervous system. Milk and yogurt are high in calcium and protein. Lean chicken and beans are high in fiber, which will keep moms feeling full for longer and contribute to muscle development.
A Chicago personal trainer generally gets women doing both aerobic exercises and strength training to burn more calories, burn more fat, and keep the body in peak condition. Exercise is recommended for new moms to help relieve stress, boost the mood and beat depression. Even with just 10 minutes at a time, significant progress can be made.
Best of all, women in the Chicago area can "test-drive" the services of a Chicago fitness trainer with a new promotion sponsored by Chi-Town Boot Camps. For just $1, new moms can enjoy a week of boot camp sessions, one-on-one meal plan development, and get a fitness assessment from a certified personal trainer.
For a limited time, ladies can try our fat loss boot camp for an entire month for only $47.
About The Company: Chi Town Boot Camps is a Chicago boot camp that is committed to helping people reach their ideal health and fitness goals. The company prides itself on having professional and experienced personal trainers who are committed and genuinely concerned with clients and the achievements of their objectives. Each individual is different, so the exercise programs are customized based on individual fitness goals, health history and current health condition. Chi Town's fitness boot camp programs are unique and exclusive and are consistently reviewed to maintain the highest possible standards. All programs come with a 100% money-back guarantee. Please visit http://www.chitownbootcamps.com for more information.
###