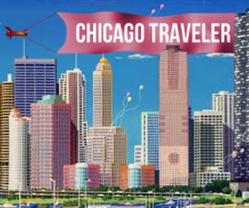 Chicago, Illinois (PRWEB) May 04, 2013
Summer is almost here! What better way to welcome the new season than planning a trip to Chicago for the holiday that many people consider the start of the summer season - Memorial Day. There are so many things to do all month long in Chicago, but this Memorial Day will be one of the best times to visit. The beaches are opening back up, the parade will walk down State Street and the temperatures will be rising to make this a fantastic first summer vacation. ChicagoTraveler.com has announced the top Chicago hotel deals to make this stay affordable so that visitors can splurge on all the fun and exciting things to do in Chicago this Memorial Day weekend.
MileNorth Hotel: MileNorth Hotel is one of the top picks for great quality and fantastic value by ChicagoTraveler.com, because they always offer some of the top hotel deals Chicago has, despite its luxury accommodations. With such a great location, walk to some of the best attractions in Chicago, like the Magnificent Mile and Navy Pier, from MileNorth Hotel. Save big on every stay this month, not just Memorial Day weekend. Book a great hotel package that comes with discounts and tickets to many of the nearby attractions. MileNorth is currently counting down to summer, and saving every month along the way. Book a trip to Chicago by May 15th and save 20% on a two-night or more stay. Book a room for Memorial Day in Chicago (or any other day after that) and save 10% on a one-night or more stay. MileNorth is also offering the American Girl Place Chicago Deal which includes an American girl doll-sized travel bed to take home, complimentary child's breakfast, 20% discount to C-House, access to a personal shopper at American Girl Place and participation in the Quarterly doll drawing.
Silversmith Chicago: This charming, historic hotel in downtown Chicago promises a fantastic vacation every time - and plenty of hotel amenities like a fitness center, business center, onsite restaurant, and complimentary newspapers. There's nothing better to do this Memorial Day weekend in Chicago than go to a baseball game. On Monday, May 27th, the Chicago Cubs will play the Chicago White Sox at US Cellular Field. The Silversmith Hotel Chicago offers a US Cellular Field White Sox Package that makes getting to the game a whole lot easier, and includes transportation, gift certificates and a late check-out. All season long this package and the Chicago Cubs package are available at Silversmith Hotel - every baseball fan should not miss this opportunity. Silversmith has deals for the non-sports fans too though, like a bed and breakfast special, a suite deal package, or a 20% discount just for booking online.
Sofitel Chicago Water Tower: It's in perfect location, this Chicago hotel boasts beautiful views, and it's got great deals. Coming to Chicago on a romantic getaway? Check out the Magnifique Romance package, which includes champagne, chocolate or flowers and breakfast served in the room every day. What a way to spend Memorial Day. Coming to Chicago for business this month? Check out the Business @ Sofitel package and enjoy all the amenities that help travelers stay efficient and connected so that they have plenty of time to explore all the nearby attractions in Chicago in their spare time. This hotel is conveniently located near Chicago's top attractions, including the Oak Street Beach, which opens back up on May 26th!
The Homestead: This family-owned inn is a great choice this May, and every month, and offers a fabulous value for the quality every traveler receives on their stay. The great rates are just the beginning, because it's the customer service and charming atmosphere that really make this hotel a top choice for a trip this May. Located near Northwestern University, families enjoy staying here while visiting their college kids, but there are also great options for travelers looking for an extended stay hotel. They offer simple hotel accommodations in addition to the studio, one and two bedroom apartments that come fully furnished to make a long stay as comfortable as possible.
There are so many fantastic hotels in Chicago, and many of them offer deals that will make a trip for every upcoming holiday affordable and extremely enjoyable. Book a package with all the extra features like tickets to nearby attractions and complimentary meals, or save money on the room so there's plenty of money to put towards all the other things to do in Chicago this month. Finding a great price on fabulous hotels in Chicago has never been easier.
About ChicagoTraveler.com:
Chicago is one of the top vacation destinations in America famous for their annual events, popular foods, architecture and top sports teams. ChicagoTraveler.com guides travelers to all the best things to do, top places to eat and deals on the best places to stay in Chicago. Lizz Riggs, editor of ChicagoTraveler.com, can help travelers find all the best things to do, places to stay and deals to take advantage of on their next trip.