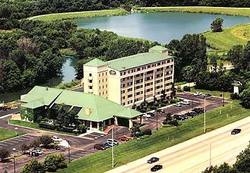 Elmhurst, IL (PRWEB) December 12, 2009
Holiday shopping and romantic getaways in the Chicago area just became more fun and affordable with a holiday shoppers' special offered by the Marriott's Courtyard Chicago Elmhurst/Oakbrook area hotel. Guests taking advantage of this holiday special can enjoy great holiday shopping at the Oakbrook Center Mall as well as all the area's seasonal excitement making for a great weekend getaway. Chicago area holiday events will be much more fun while relaxing amidst the amenities of a fine Courtyard hotel.
Holiday shoppers can explore all the endless possibilities the Oakbrook Center Mall has to offer, from great season sales to exciting dining and entertainment options - everything needed to plan a weekend getaway in the Chicago area. Shopping possibilities are endless and the prestigious Oakbrook Center is a great place to start with six major department stores and over 160 upscale shops and restaurants. By booking a one night stay as part of the Holiday Shoppers' Special at the Marriott's Courtyard Chicago Elmhurst/Oakbrook hotel; guests will receive $50 worth of free shopping at the Oakbrook Center Mall, compliments of the Courtyard and free breakfast for two, all at the affordable rate of $104. Offering nearly 30 restaurants and a variety of special events and activities the Oakbrook Mall Center offers thousands of choices to meet holiday shopping needs and a spectacular shopping experience. Maintaining its popular demand, the Oakbrook Mall Center was selected as the first choice for shopping destinations by Illinois shoppers.
After a full day of shopping and an evening of fine dining and events, guests will find the Marriott's spacious guest rooms to provide every amenity for relaxation and a good night's rest. The Courtyard's newly remodeled rooms include free high speed Internet access, a sitting area, coffee and tea service and a mini-refrigerator. Cable/satellite service is provided along with HBO and pay-per-view movies. The hotel also features a heated indoor swimming pool and Jacuzzi as well as an on-site fitness center for total relaxation. When it's finally time to end the day, guests will appreciate the Courtyard's fine cotton rich bedding packages for a comfortable night's sleep. Free breakfast for two at the Courtyard Café will start the next day off right, whether planning another shopping adventure or taking in one of the area's holiday events.
The Marriott's Courtyard Chicago Elmhurst/Oakbrook is located near Chicago's O'Hare Airport and offers convenient access to many of the city's major thoroughfares, making it a great location for a holiday shopping extravaganza and weekend getaway in the Chicago area. With this holiday shopping special and an extra $50 to spend at the Oakbrook Mall, holiday shopping in Chicago will be fun, exciting and affordable. Accommodations for this special Holiday Shoppers' Special may be booked by calling the Courtyard Elmhurst/Oakbrook at 1-630-941-9444 or using the Marriott's central reservation number, 1-800-321-2211 in the USA and Canada.
###