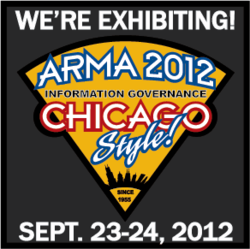 Sunnyvale, California (PRWEB) September 12, 2012
BMI Imaging Systems, a leading provider of document conversion services, document management and microfilm scanning solutions announced today that it will be attending the Chicago, Illinois ARMA conference at the end of the month.
Held in Chicago, Illinois, ARMA International's 57th Annual Conference will include leading-edge document management education from top records managers thought leaders as well as best practices for all types of record formats, including microfilm scanning, document conversion and records management.
In addition to its document conversion and document management solutions, BMI will be demonstrating its unique microfilm scanning solution, Digital ReeL. Available nationwide, the Digital ReeL microfilm scanning solution is ideal for infrequently accessed microfilm archives. Many government agencies and companies nationwide have selected Digital ReeL as their microfilm replacement technology.
BMI has no charge ARMA passes available for Chicago, Illinois government agencies and corporate employees that want to enter ARMA. AMRA is ideal for records managers, records analysts, archivists and IT managers. Contact us if you are interested in attending the ARMA Expo to see the document management industry's emerging technologies, including BMI Imaging's Digital ReeL microfilm scanning solution.
About BMI's Digital ReeL Microfilm Scanning Solution
Digital ReeL is a practical, affordable Chicago, Illinois microfilm scanning solution that is ideal for infrequently accessed archives. BMI will convert your microfilm to virtual, digital microfilm rolls at one of our secure facilities (on-site option available). The microfilm scanning service creates a digital, virtual replica of your original microfilm or microfiche. The entire microfilm roll or microfiche is digitally converted, ensuring that no images are lost during the digital microfilm conversion process.
The Digital ReeL Chicago, Illinois microfilm scanning solution includes a web-based viewer that emulates microfilm retrieval from a reader printer. Users retrieve virtual microfilm rolls from a PC workstation, avoiding the hassles that come with physical microfilm and legacy reader printers.
Learn more about the Digital ReeL digital microfilm scanning solution.
About BMI Imaging
BMI has been a leader in digital microfilm scanning, microfiche conversion and document management services for over 50 years. BMI offers industry-leading document scanning products from Canon and e-ImageData (ScanPro 2000) and the ApplicationXtender document management product line from EMC Corporation. BMI has developed the Digital ReeL microfilm scanning solution. BMI's Digital ReeL serves commercial and government agencies throughout the United States and has developed a customer list of more than 2,000 accounts. BMI is headquartered just outside San Francisco in Sunnyvale, California, with an additional production and sales facility in Sacramento, California.