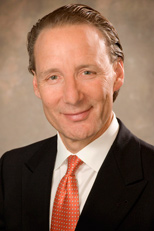 Drivers in Chicago and surrounding areas must be alert to the real potential for a deer collision, particularly now during the late fall and early winter when does and bucks are mating and on the move.
Chicago, IL (PRWEB) November 30, 2011
Collisions with deer are not limited to rural areas, cautions Chicago auto accident attorney Patrick A. Salvi, pointing to recently released data from the Illinois Department of Transportation.
According to an IDOT news release, Cook County had the most deer/vehicle accidents in the state last year, and neighboring Lake County had the 10th most.
"Drivers in Chicago and surrounding areas must be alert to the real potential for a deer collision, particularly now during the late fall and early winter when does and bucks are mating and on the move," said Salvi, managing equity partner of the Chicago personal injury law firm of Salvi, Schostok & Pritchard P.C. "It's also a good time for motorists to check their auto insurance policies to make sure they have sufficient coverage in case of a deer/car accident."
There were more than 17,000 deer/vehicle accidents in Illinois during 2010, including 562 in Cook County and 320 in Lake County, according to the IDOT report. Ten people died in Illinois deer collisions last year, and more than 600 people were injured.
Although the overall totals mark an improvement over recent years, deer hits still pose a significant threat to Illinois motorists, Salvi said.
An impact with a large animal such as a deer can be enough to cause serious injuries, including crushing injuries, spinal cord injury and traumatic brain injury.
Some of the worst accidents result from drivers who swerve into oncoming traffic to miss a deer, only to hit another vehicle instead, according to the Chicago accident lawyer. If a driver loses control of his or her vehicle to avoid a deer and collides with someone else, he or she could be held liable for the damages the other person suffered.
"Swerving into another lane or losing control because of a deer could be considered negligence, particularly when the driver was going too fast or otherwise driving recklessly," he said.
In situations where no other vehicles were involved, Illinois drivers who hit deer or other large wildlife might not have insurance coverage for their personal injuries and property damage, Salvi cautioned. The collision portion of an auto insurance policy typically will not pay for damages caused by animal impacts. Instead, comprehensive coverage applies — and many Illinois drivers do not carry optional comprehensive coverage.
Salvi emphasized that an experienced auto accident attorney can advise drivers about their insurance needs and can also fight for their right to full compensation for medical expenses and vehicle repairs after an accident has happened.
If an insurance company refuses to pay for damages that should be covered under the auto policy, the insured could be entitled to recover significant damages under an Illinois bad-faith insurance practices lawsuit, he said.
Of course, the most preferable option is to avoid a deer/car crash in the first place. Not all deer crashes are unavoidable and motorists can take some basic precautions to avoid hitting deer, according to Salvi.
Some suggestions from IDOT and the Illinois Department of Natural Resources include:

Watch out for deer, particularly at dawn and dusk when they are most active.
Don't swerve to miss a deer — instead, brake purposefully to a stop and wait for the deer to move.
Slow down in areas frequented by deer, including wooded areas, cultivated fields, near water and in areas where you have previously seen deer.
Use caution if you see one deer — there are probably more nearby because deer often travel in herds.
Anticipate that a deer might double back across the road after crossing.
Use your horn or flash your lights to encourage the deer to move.
If you hit a deer, Illinois law requires you to report the accident if it caused more than $1,500 in damage. In any event, you should report the incident and allow the authorities to deal with removing the deer's body, Salvi warned.
About Salvi, Schostok & Pritchard P.C.
Salvi, Schostok & Pritchard P.C. is a leading Illinois personal injury law firm with offices in Chicago and Waukegan. In addition to representing clients in catastrophic personal injury, medical malpractice, aviation and product liability cases, the firm focuses on car and truck accidents, airplane and train accidents, construction injuries, birth injuries, brain injuries, unsafe properties and animal attacks. The firm has obtained more than $620 million on behalf of its clients in personal injury and wrongful death cases, including 175 multi-million dollar verdicts or settlements. For more information, call (312) 372-1227 or use the firm's online contact form.