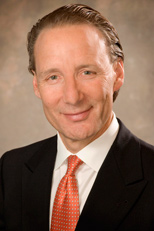 Not only is this bill unconstitutional, it's unethical.
Chicago, IL (PRWEB) May 19, 2011
Chicago medical negligence lawyer Patrick A. Salvi said today that federal lawmakers would serve the country better by improving patient safety instead of taking away patients' rights by advancing a new medical malpractice reform bill.
The Help Efficient, Accessible, Low-cost, Timely Healthcare (HEALTH) Act, or H.R. 5, was approved last week by a 30-20 vote by the U.S. House Energy and Commerce Committee, according to The Hill.
Among other restrictions, the bill would cap noneconomic damages, such as pain and suffering, at $250,000 in any personal injury or wrongful death lawsuit alleging medical negligence, nursing home abuse or neglect or harm suffered from defective drugs or medical devices.
Salvi, the managing equity partner of the Chicago medical malpractice law firm of Salvi, Schostok & Pritchard P.C. and a former president of the Illinois Trial Lawyers Association, pointed out that a similar cap was struck down by the Illinois Supreme Court in February 2010.
"Not only is this bill unconstitutional, it's unethical," said Salvi, who was recently featured on CBS TV's "The Early Show" for his work in a case involving an infant's hospital death.
"Injured patients and their families would be left without the funds they need to carry on with their lives after being victimized by careless healthcare providers or medical product companies, while insurance companies would be the only ones to benefit," Salvi said.
"And this would all be for the sake of enacting so-called tort reform measures that would have little, if any, actual impact on rising healthcare costs."
In addition to the noneconomic damages cap, the HEALTH Act would also limit punitive damages to the greater of two times the amount of economic damages or $250,000, and it would deny punitive damages in the case of any product approved, cleared or licensed by the Food and Drug Administration (FDA) or considered to be in compliance with FDA standards.
"By essentially allowing the medical industry to avoid accountability, this bill would remove any incentive to make changes that improve patient safety," Salvi said. "That's simply wrong."
According to Salvi, whose firm has recovered millions of dollars for victims of medical malpractice and negligence throughout Chicago and Cook and Lake counties, negligent healthcare providers, drug companies and medical device manufacturers are not the ones who need protection. Instead, it's the patients.
"If the government won't stand up for its people, we at Salvi, Schostok & Pritchard certainly will," he said.
About Salvi, Schostok & Pritchard P.C.
Salvi, Schostok & Pritchard P.C. is a leading Illinois medical malpractice law firm with offices in Chicago and Waukegan. The firm represents clients in matters involving emergency room errors, failure to diagnose, hospital negligence, physician error, birth injuries, surgical malpractice, anesthesia errors, organ puncture or perforation, post-operative and pre-operation malpractice and surgical complications. The firm has obtained more than $585 million on behalf of its clients in personal injury and wrongful death cases, including 160 multi-million dollar verdicts or settlements.
To learn more about Salvi, Schostok & Pritchard P.C., call (847) 249-1227 or use the firm's online form.
###